How To Get Monster Hunter: World For Free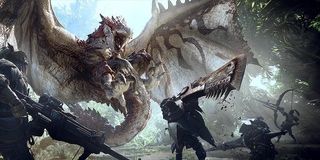 Monster Hunter: World launched this week, finally bringing the beloved series back to home consoles after a rather lengthy hiatus. And if you happen to need one of those consoles in your hardware collection, now might be a good time to pick one up. For a limited time, you can purchase a PlayStation 4 Pro or Xbox One X and snag a free copy of the game.
Sure, a Monster Hunter game launched for the Wii U a few years back but, given how poorly that particular console sold, we're having a hard time counting it as a triumphant return to television screens for the series. This week, though, Monster Hunter: World arrived on both the Xbox One and PlayStation 4, and things seem to be going swimmingly. Critics loved it, fans are loving it and the servers seem to be holding strong.
If this is making you green with envy, there are a couple of solutions to bring a new console, and a free copy of the game into your home.
First up, we'll take a look at the PlayStation 4 offer, as it's bringing a little extra bang for your buck. Over on Newegg (via their eBay storefront (opens in new tab)), you can pick up a PlayStation 4 Pro 1TB console for $399. For a limited time, doing that will net you a free copy of Monster Hunter: World and a free copy of Titanfall 2. While our review of the former won't be up until early next week, the embargo has passed and I feel comfortable saying anyone who is curious about the series would be doing themselves a favor to give it a gander. As for Titanfall 2, that game is one of the best FPS' in recent memory and the online community is still active, so now would be a good time to plow through its rather fantastic campaign before diving into the great PvP and cooperative game modes.
The sale listing notes that only a limited supply of these combo packs are available and 170 of them have sold in the past day so, if this seems enticing, you might want to break out the wallet with a quickness.
If you've been itching to pick up an Xbox One X 1TB console, then Newegg has a pretty great deal (opens in new tab) going on as well. You can purchase the console for $499.99 and, when you do, it also comes with a free copy of Monster Hunter: World. This particular bundle makes no mention of a limited quantity, but it does make note of the fact that the sale is only available for six more days (Thursday) as of this writing.
Thoughts on which deal your fellow readers should take advantage of? Feel free to add your two cents to the comments section below.
Staff Writer for CinemaBlend.
Your Daily Blend of Entertainment News
Thank you for signing up to CinemaBlend. You will receive a verification email shortly.
There was a problem. Please refresh the page and try again.