Nintendo Switch Exclusive FPS Could Be On The Way From Bandai Namco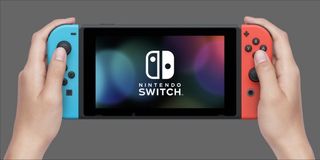 (Image credit: Nintendo)
The one console that you can bet on everyone asking about getting a port for a game where no platforms are listed is the Nintendo Switch. In the comments section of just about every single trailer for a game where the platforms are to be announced, everyone asks for a Switch port. Well, you may not have to ask for a port for Bandai Namco's upcoming first-person shooter, because it may end up being a Switch exclusive.
A LinkedIn profile for Shawn Pitman, who previously worked at RealU, Paragon Studios and Slipgate Ironworks, has reportedly listed that he was working on an exclusive game for the Nintendo Switch, as reported by Gamespot.
If you check the profile now, the listing is gone, but the article states that Pitman was working on an unannounced first-person shooter that was going to be a brand new intellectual property for the Nintendo Switch. He, supposedly, is working on this project under the Bandai Namco banner, which the article points out isn't very well known for first-person shooters.
Just recently, Bandai Namco released Dragon Ball FighterZ, and before that the company had heavy hitters in 2017 like Tekken 7 and Pokken Tournament DX. There's Soul Calibur VI on the horizon for this year, along with JRPGs like Ni No Kuni 2.
Last year, Bandai Namco had filed trademarks for three new intellectual properties, including Lost On Arrival, Under Glass and Twin Mirror.
Many people automatically assumed that at least one of the games may have some relation to the Nintendo Switch, given that Bandai Namco had mentioned in the past that the studio was interested in making more exclusives for the console.
The Gamespot article points out that, in the last earnings call, Bandai Namco had already confirmed that it was putting more resources and time into Nintendo Switch products, so it wouldn't be surprising if it turns out to be true that a first-person shooter would be in the works for the Switch.
Namco did try its hand at an FPS last year with The Farm 51's Get Even, but the game didn't quite make waves the way many had probably hoped given that it was more of a story-oriented walking simulator than a traditional first-person shooter.
Gamespot also mentioned that Ridge Racer 8 was in Pitman's profile as well, and the game was listed as being another Nintendo Switch exclusive.
Sadly, both entries on Pitman's profile have been scrubbed as of the writing of this article. It's not uncommon for some developers to list upcoming projects in their profiles in an attempt to bolster their resume, especially if they can get a AAA title on there.
We just recently saw one profile listing GTA 6 on there alongside Red Dead Redemption 2. The profile was quickly scrubbed to remove any evidence of the entry. Is Pitman working on a new FPS exclusive for the Nintendo Switch? Quite possibly. But, until Bandai Namco confirms the details, we'll just have to keep trying to piece things together from the small bits of info being let loose here and there.
Your Daily Blend of Entertainment News
Staff Writer at CinemaBlend.