How To Get Sea Of Thieves For Free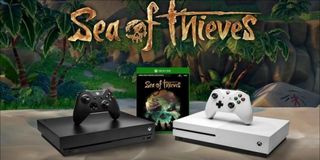 (Image credit: Microsoft)
The release of Sea of Thieves is nearly upon us, and for gamers curious about getting their hands on the game without having to pay extra for it, there's a way to do so. In fact, you can get a free copy of the game from retailers starting March 20th for the Xbox One.
According to the Major Nelson blog, starting March 20th in North America you'll be able to receive a free copy of Sea of Thieves for the Xbox One if you purchase an Xbox One X from a local retailer for $499.99. That's right, for a limited time you'll be able to receive a free digital copy of Rare's new game by simply buying an Xbox console.
This promotion will only be available for certain markets between March 18th and March 24th. Not every retailer will be participating in the promotion, so you'll obviously have to check with your retailer before busting through the doors and demanding a free digital code for Sea of Thieves.
Alternatively, if you don't have an Xbox One, there are still Sea of Thieves bundles available containing the Xbox One S, which comes with a console that has a 1TB hard drive, and a month of free Xbox Live Gold. You'll also receive a free voucher for the Xbox Game Pass, which allows you unlimited access to Xbox One games made available digitally from the Microsoft store. The bundle also comes with a wireless Xbox One controller. You can get your hands on the bundle for $299.99.
There are also a few other Sea of Thieves accessories available as well, such as the specially themed Xbox wireless controller with a purple livery and turquoise buttons and a skull logo on the middle of the controller.
There's also a Seagate passport drive with a similar livery as the controller, and a charging stand. The good part about the charging stand is that technically you can still hold and play with the controller while it charges.
As for the game itself, the Play Anywhere title will be available for both Xbox One and Windows 10 on PC. The game features Play Anywhere capabilities, so players can cross-play across PC or home consoles, and swap between console and PC depending on which platform they prefer to play on.
In the actual game, you'll be able to team up with three other people and go journeying across the isles populated by pirates, skeletons, animals and treasures.
The beta tests have all been fairly huge for Sea of Thieves, bringing in thousands upon thousands of players who have embarked on the journey and attempted to battle other players or team up and loot treasure together.
The game features dynamic weather that can radically change the outcome of travel and combat, along with plenty of skins for your characters, weapons, and your boat. If you missed out on the beta tests but you want to participate in the seafaring travels that Rare's new title has to offer, you can do so by checking out the game when it launches on March 20th. Alternatively, you can also pick up an Xbox One X and get the game free as a bundled in digital download for free.
Staff Writer at CinemaBlend.
Your Daily Blend of Entertainment News
Thank you for signing up to CinemaBlend. You will receive a verification email shortly.
There was a problem. Please refresh the page and try again.