All The Songs Pulled From Grand Theft Auto 4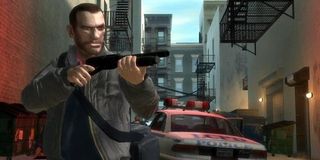 Rockstar Games announced earlier this year that a number of songs would soon be removed from Grand Theft Auto IV. Well, it's the day the music died in Liberty City, with dozens of tunes officially patched out of the game.
We've come to expect moves like this over the years. When a game comes out with a beefy soundtrack of dozens upon dozens of licensed songs, it's usually not feasible to license the whole list indefinitely. It turns out GTAIV had a 10-year agreement on a large number of songs heard on the various radio stations, and the deadline for their removal is officially upon us.
The folks over at Gameinformer were able to get their hands on the list, which you can find below. From David Bowie to Fat Joe, AC/DC, The Smashing Pumpkins and beyond, a large number of tunes got the ax. A collection of 10 new songs have been added in as compensation, but obviously the scale is a bit on-sided here.
If you don't want to lose all of your songs on the PlayStation 3, Xbox 360 and PC version of the game, make sure you don't update it with the latest patch. And for those of you who are now worried about what's going to happen with GTAV, that game is only five years into what we assume is a similar 10-year licensing contract with songs. You should be fine.
Your Daily Blend of Entertainment News
Staff Writer for CinemaBlend.