Metro Exodus Delayed To 2019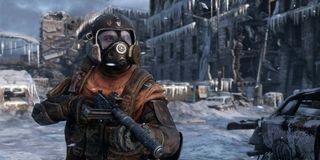 (Image credit: THQ Nordic)
A lot of games that gamers had hoped that they would be able to play at the end of 2018 are now being pushed into the first quarter of 2019. One prime example of that is 4A Games and THQ Nordic's upcoming Russian-themed, post-apocalyptic survival game, Metro: Exodus. This is likely going to severely hamper the enthusiasm that some fans may have had for the game.
The news comes courtesy of THQ Nordic's latest financial earnings report, where it was revealed that Deep Silver and 4A Games' Metro: Exodus has been pushed out of its late 2018 release and moved into a first quarter, 2019 release for PC, PS4 and Xbox One.
This nugget of information was actually tucked in between announcements that Deep Silver will be publishing Bards Tale IV and Wasteland 3. The company also attempted to leverage the fact that Kingdom Come: Deliverance managed to sell millions of copies earlier this year, which was published by Deep Silver.
However, the good news about the other titles doesn't detract from the very obvious realization that the highly anticipated survival game, Metro: Exodus, is not coming out this year.
The game was originally announced back in June of 2017 during an E3 press conference. It was given a tentative 2018 release, while showcasing some gameplay footage of the main character in a freezing cold, post-apocalyptic Russia. Players will take back control of Artyom once more, following up on the events that took place in the original Metro: 2033 and Metro: Last Light.
During the demonstration gamers were treated to footage of some battles against mutants using a variety of weapons, as well as a look at the ice cold wasteland of the Volga River. We see how Artyom is attempting to get into a nearby train as he attempts to make his way through the mountains.
Plot-wise there hasn't been much revealed about the game, other than that survival is still a major factor in the game, and attempting to find some semblance of peace following the turbulent events of the first two games is still a top priority for Artyom.
4A Games helped really make a name for itself after it released Metro: 2033 way back in 2010 when THQ was still around. The game managed to make waves on Xbox 360 and PC as a hard-boiled, survival-shooter simulation. Unlike other games out there, Metro: 2033 forced players to rely on using tactics and wits every step of the way, valuing limited amounts of ammo and attempting to stock up on filters while traversing through toxic environments.
While the game may have a very popular following, some believe that THQ Nordic wisely decided to move Metro: Exodus out of its fall release as a way to avoid Red Dead Redemption 2, which is expected to sell big when it releases later this year for PS4 and Xbox One.
There's also the fact that Call of Duty: Black Ops 4 is due out this fall, and it's reinventing the formula by introducing story-oriented zombie modes in place of a traditional single-player campaign. So maybe THQ wanted to avoid those big AAA releases and settle for greener pastures during the first half of 2019.
Staff Writer at CinemaBlend.
Your Daily Blend of Entertainment News
Thank you for signing up to CinemaBlend. You will receive a verification email shortly.
There was a problem. Please refresh the page and try again.