Super Smash Bros. Ultimate Will See The Return of Solid Snake's Original Voice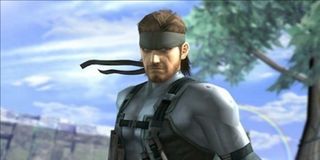 (Image credit: Nintendo)
There were plenty of huge surprises at this year's E3, possibly none more-so than the reveal of The Elder Scrolls VI from Bethesda. But there was another surprise that was just as big, if not bigger, for those of you who have grown up with the Metal Gear Solid series from Hideo Kojima and Konami. Specifically, that the original voice actor for Solid Snake, David Hayter, is returning to voice the character in the upcoming Super Smash Bros. Ultimate.
The news about David Hayter returning to voice Snake was confirmed through his official Twitter account following the reveal of the cast of characters for Super Smash Bros. Ultimate.
During the Nintendo E3 Direct, it was announced that the company was bringing back all of the characters from every single Super Smash Bros. game, including Nintendo's own characters and all of the licensed characters from other franchises, such as Sonic from Sonic The Hedgehog, Pac-Man from the Namco games, and Mega Man and Ryu from the Capcom games. One of the other big surprises was that Solid Snake from Metal Gear Solid was making a return to Super Smash Bros. Ultimate as well.
Quite naturally everyone was curious whether or not David Hayter would be back to voice Snake, something he hadn't done since Metal Gear Solid: Peace Walker on the PlayStation Portable from back in 2010. So, after an eight year hiatus, Hayter is back as Solid Snake.
Hideo Kojima had replaced Hayter for the 2015 outing of Metal Gear Solid V: Ground Zeroes and Metal Gear Solid V: The Phantom Pain. The two had a bit of a falling out, which led to Kojima going with Kiefer Sutherland for the roles of Big Boss and Venom Snake in Metal Gear Solid V. The replacement did not go down well with fans at all, who had become accustomed to Hayter's voice as the grizzled Solid Snake. The game still went on to sell millions of copies across multiple game systems, but it left fans anguished at the idea that Hayter was no longer voicing a beloved character, one that they had become accustomed to since the 1998 release of Metal Gear Solid on the original PlayStation One.
With the news confirming that Hayter has returned to voice Solid Snake, I'm sure this will also compel fans to start dreaming about Hayter voicing Snake again in a mainline series of Metal Gear Solid (assuming Konami has plans on making another one).
The last Metal Gear game that was released was the poorly received Metal Gear Survive. The game was an open-world, zombie survival game with some multiplayer cooperative features. Given that it wasn't directed by Hideo Kojima it didn't quite sell as well and had a rather negative reputation among the core fans, but the Super Smash Bros. community is taking the opposite approach, and thanking Nintendo for including Snake into the roster for the upcoming brawler on the Nintendo Switch.
Your Daily Blend of Entertainment News
Staff Writer at CinemaBlend.
Your Daily Blend of Entertainment News
Thank you for signing up to CinemaBlend. You will receive a verification email shortly.
There was a problem. Please refresh the page and try again.