All Of The New Features Coming To Hitman 2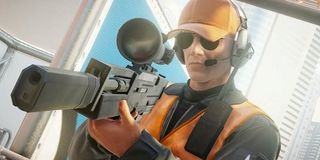 When Hitman 2 launches this fall, players will once again take on the role of Agent 47, the titular contract killer who can turn just about any-damn-thing into a deadly weapon. We got to go hands-on with one of the game's missions during E3 2018, as well as have a chat with Io Interactive Executive Producer Markus Friedl about what's being carried over from the last Hitman outing and, more importantly, what things will be changing.
Right out of the gate, Friedl was excited to talk about the new game mode in Hitman 2, called Sniper Assassin.
That mission takes place overlooking a massive mansion that just so happens to be hosting a wedding. Several targets and guards are located in the crowd and, in Sniper Assassin, its Agent 47's job to take them out within a 15-minute timeframe. With a friend in tow, it becomes easier to keep track of multiple targets, coordinate shots and even control the mayhem if things go south. What's really unique about this mode is that you're still trying to remain undetected, even if you're not swapping costumes and taking out baddies up close and personal. You'll be more handsomely rewarded if you can keep things nice and quiet so, as an example, you might try to take out a target when they are alone and on a balcony that has a bunch of bushes below it. Get them to fall into the bushes and nobody will discover the body.
Again, you can gain access to the first Sniper Assassin mode, with cooperative play, right now if you pre-order the game. Hitman 2 itself doesn't launch until November, so, hopefully, that'll be enough to tide you over for a few months.
The rest of the changes in Hitman 2 are a bit more subtle. According to Friedl, many of these come as a direct response to player feedback.
I got to see many of those changes in action during my hands-on session with Hitman 2, where I was infiltrating a massive car race in Miami. A huge part of the fun in the Hitman games is discovering the various routes for yourself, so I'll keep things vague from here on out. My Warner Bros representative did their best to guide me through one path to victory, which would have seen me placing an explosive on the target's vehicle. This is an example of where picture-in-picture comes into play. While my handler explained that I needed to get to a certain location and find a certain vehicle, a small screen popped up in the HUD actually displaying my objective. I still needed to figure out how to get to the proper location, but the PIP gave me some nice context to help guide my moves.
Long story short, I completely botched my initial plan and wound up running for my life. I actually stumbled upon the briefcase sniper rifle Friedl referenced and ended up using it to complete my mission in a totally different way.
As a final note, while the previous Hitman game was launched across several DLC chapters, this next game in the series will offer the core game all in one go. Friedl said this was done to allow players to tackle the missions at their own pace and, even more exciting, it gives the team the entire roster of locations to utilize once they start rolling out their live content updates boasting extra missions and twists on the gameplay following launch.
Your Daily Blend of Entertainment News
Staff Writer for CinemaBlend.
Your Daily Blend of Entertainment News
Thank you for signing up to CinemaBlend. You will receive a verification email shortly.
There was a problem. Please refresh the page and try again.