The Resident Evil 2 Remake's Premium Edition Has A Premium Price Tag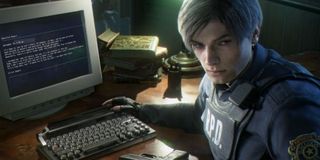 Just about every major new game has a multi-SKU release. This means that there's a standard version, a deluxe edition, and usually a premium edition. Oftentimes, these multiple versions are reserved for games that are expected to sell millions of copies during its initial release. Usually, if publishers think that gamers are willing to spend a bit extra on a AAA game, the companies will move forward with a special collector's edition. Apparently, Capcom seems to think that Resident Evil 2's remake is going to sell big because the company already has a premium edition in the wings and it comes with an inevitably large premium price tag.
According to Game Informer, there are multiple premium editions on the books for Resident Evil 2's remake, and the one Japanese-exclusive edition comes with a Qwerkytoys Bluetooth-enabled mechanical keyboard designed to look like a typewriter. Yes, you get a full-fledged gaming keyboard with the game, and it looks like the typewriter typically used in Resident Evil games in order to save your game. This premium edition will cost you approximately $700 USD, which is pretty insane.
Now, the $700 edition only comes with the game and the typewriter. There's also an even more expensive version that comes with a few other trinkets, such as four ink ribbons that contain inkwells for crime scenes. I don't really know how well that would work as a selling point for picking up the special edition, but it will run you a not-so-breezy $900. Yes, you will pay close to an entire grand just to get your hands on that particular special edition of the game.
As noted by Game Informer, there are also less pricey versions of the Resident Evil 2 collector's editions, which simply come with the game and a few other goodies. For instance, the standard collector's edition comes with either the Xbox One or PS4 version of Resident Evil 2, a Raccoon City Police Station blueprint. A deluxe edition DLC pack voucher, along with a digital version of the game's soundtrack. There's a 12-inch Leon S. Kennedy RPD collectible figurine, a collector's artbook, and an RPD item box that houses all of the content. You get all of this for $199.99. While that might seem really expensive, keep in mind that some of the high-quality figurines like the one that comes in the collector's edition can run up to $329.99, so, technically, it's not quite as expensive as you might think it is. It also comes with seven pieces of DLC, including two additional pre-order bonuses involving Chris Redfield and Jill Valentine.
Even if the collector's edition is still too pricey for your price range, there's also the deluxe edition at $69.99, and the standard edition at $59.99.
Of course, none of those versions of the game compare to the $900 beast that will be exclusive to the Japanese gaming market.
Funnily enough, you can actually get a similar keyboard completely separate from the premium edition of Resident Evil 2 that will only run you $250. So, obviously, you'll be spending a lot more if you plan to get the same keyboard in the bundle with the game.
You can look for Resident Evil 2 to launch for home consoles and PC starting January 15th, 2019.
Staff Writer at CinemaBlend.
Your Daily Blend of Entertainment News
Thank you for signing up to CinemaBlend. You will receive a verification email shortly.
There was a problem. Please refresh the page and try again.