Why Porn Stars Get Into Fortnite And Other Games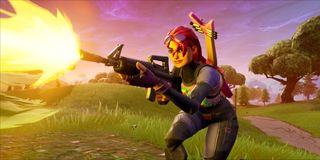 (Image credit: Epic Games)
With Epic boasting more than 125 million registered players for Fortnite, it's no surprise that it's become a global phenomenon that has attracted people from all walks of life; engineers, sports stars, artists, and actors. I mean, with a demographic market reach of 125 million people you're bound to nab different people from nearly every profession, right? That isn't just a guess, though. It turns out that some of the fastest-growing stars in the streaming scene are stars in their own right outside of the world of gaming... I'm talking about porn stars. Yes, porn stars have been jumping into Epic Games' Fortnite and building up an audience of gamers.
So why is this happening? Well, according to Deadline a lot of porn stars have a lot of downtime in between projects and so some of them have been attempting to elevate their own brand by live streaming through services like YouTube Gaming and Twitch.tv.
The article notes that porn stars such as Mia Khalifa, Rahyndee James, and Riley Reid have been streaming games such as Fortnite from Epic Games, which is one of the most popular games on the market at the moment, as well as Blizzard's World of Warcraft and the team-based shooter Overwatch.
So what's the appeal to streaming video games?
Building a brand, of course.
The porn stars state that since they have a lot of downtime that it's a great way to keep building their brand even while they aren't shooting movies. It's also a great way to kill time while not working on any projects. According to Harriet Sugarcookie, it was explained to Deadline that live streaming is also very similar to being on film, given that you're still on camera and it's easy to play up to the camera, look good for the audience, and maybe even bring in a few subscribers along the way.
This is a great way to build up a rep outside of making movies because whether your movie is a hit or not, at least you have your own Twitch audience to fall back on.
While it might seem silly that anyone in show business would want to spend time building subscribers and courting gamers as a primary audience, there is big business in streaming. People like Ninja are making over $500,000 a month, as reported by Forbes.
So yeah, some content creators can make about as much, if not more, than some actors and actresses in show business. Being able to cross over from one field into the other in order to keep one's brand noteworthy and flourishing is just good business sense.
Of course, one must keep in mind that just because you're rich and famous and you get into streaming doesn't mean you're going to become more rich and famous. There is the skill factor involved, which is usually how the top players earn their keep in the Twitch.tv space. Relying solely on courting in viewers with scant attire is becoming more difficult given Twitch's crackdown on streaming conduct. Even still, don't be surprised to boot up Twitch and find one of your favorite games being played by one of your favorite porn stars.
Staff Writer at CinemaBlend.
Your Daily Blend of Entertainment News
Thank you for signing up to CinemaBlend. You will receive a verification email shortly.
There was a problem. Please refresh the page and try again.