Yakuza Kiwami And More Free With PlayStation Plus In November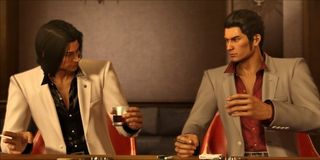 (Image credit: Sega)
If you're still subscribed to the PlayStation Plus service for the PlayStation 4, you'll be treated to a handful of free games for the month of November as part of the package. The PlayStation Plus games for November include classics like Yakuza Kiwami, which is a pretty popular series.
Over on the PlayStation Blog it reveals that gamers will have quite a few games to play this fall if they have a PlayStation Plus subscription, including Bulletstorm: Full Clip Edition and Yakuza Kiwami for the PS4, Jackbox Party Pack 2 and the Arkedo Series for the PS3, and Burly Men at Sea and Roundabout for the PS Vita.
The Full Clip Edition of Bulletstorm was the re-released version of the game that came out last year, in April, for home consoles and PC. It was an updated version of the original Bulletstorm, which came out six years prior for the Xbox 360, PS3 and PC from Epic Games and Electronic Arts. The re-release was developed by People Can Fly and published by Gearbox Software.
The game featured a full single-player campaign with an additional online co-op mode with 12 distinct maps themed around utilizing the game's most praised feature: the Skillshot system. Players were rewarded for combining kills and creating unique new kills using the variety of weapons, melee attacks, and aerial abilities afforded in the game. Players could gain additional points for creating combos out of the kills, which really added to the game's gunplay appeal. PS4 gamers will be able to practice their Skillshots in November now that Bulletstorm: Full Clip Edition will be made available for free as part of the PS Plus subscription.
Yakuza Kiwami is a very different sort of experience. The Japanese-themed beat-'em-up drama takes place within the seedy underworld of organized crime in Japan. Kiwami originally came out for the PS3 and PS4 back in 2016 in Japan, and then it was re-released on PS4 in North America and Europe last year. The game is a retelling of the original Yakuza, just with updated visuals and the most improved version of the engine that has powered the Yakuza series. Gamers get to experience improved frame-rates, better resolution, and a few other quality of life features that help make the game a lot more immersive than its original release.
Now, sadly, PS3 gamers get the short end of the stick for November if you were hoping for something action-packed and over-the-top. The offerings this time around are somewhat themed around people who prefer casual games. There's nothing wrong with that, but if you were hoping for something from the AAA stash like Mafia 2 or Grand Theft Auto, you're fresh out of luck. The Jackbox Party Pack 2 comes with a number of party games, while the Arkedo Series is a pack of puzzle games for those who like playing match-3 games.
Burly Men At Sea is an interesting game with a fantastic, minimalist art-style. Every frame looks like a hand-painted piece of clipart. It's a cool little game for PS Vita gamers looking for an unorthodox adventure title. And, finally, Roundabout is another puzzle game for the PS Vita where players have to pick up passengers in a limousine while dealing with the car constantly spinning.
The games will be available for PS Plus subscribers at the beginning of November.
Staff Writer at CinemaBlend.
Your Daily Blend of Entertainment News
Thank you for signing up to CinemaBlend. You will receive a verification email shortly.
There was a problem. Please refresh the page and try again.