Addams Family, More Coming To Pinball Arcade On PS4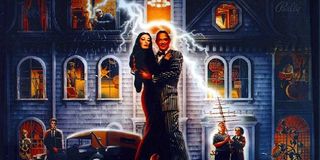 Big news for virtual pinball fans as FarSight Studios announces that The Addams Family table, along with a trio of other fan-favorite tables, will make its way to the PlayStation 4 version of The Pinball Arcade next week.
It's crazy to think how far The Pinball Arcade has come in just a few years, starting off on the PlayStation 3 with just a handful of tables and blossoming into the single best collection of digitized real world tables available on multiple platforms. While Zen Pinball offers up fantastic new ideas that could never be pulled off in the real world, The Pinball Arcade covers the other side of that same coin, offering lovingly crafted recreations of tables that, sadly, are becoming increasingly hard to find in the real world.
For many pinheads, the best of those tables is The Addams Family, a beautifully built collection of ramps and toys that's positively overflowing with references to the beloved IP, as well as that unforgettable theme song. The best-selling table of all time is finally making its way to The Pinball Arcade next week and, according to a recent post from FarsSight Community Manager Mike Lindsey, it'll be bringing a few friends along for the ride.
Similar to the Star Trek and Terminator 2 tables that came before it, the trick with getting The Addams Family table on The Pinball Arcade was all of the additional licensing issues that go along with that kind of property. FarSight turned to Kickstarter for funding last year and, as expected, fans rose to the occasion.
Now all of that effort is about to pay off with the latest batch of DLC, set to launch on the PS4 come March 17. According to Lindsey, that brings the total table count for the game up to a whopping 56. That's an amazing collection for fans of pinball and, for those of you who haven't fallen in love with the silver ball just yet, consider it an extremely well-done history lesson. The Pinball Arcade features old school tables from the dawn of the genre on up to some of the most recent, more mechanical contraptions.
As is typical of a Pinball Arcade release, next week's DLC features a little something for everyone. The Addams family table will be joined by another popular licensed table, this time based on the bug-slaying action flick, Starship Troopers.
These will be paired with a couple of older tables, including the 1989 table, Earthshaker, which shook when players triggered an in-game earthquake. Party Zone will complete next week's lineup, a more widely-distributed table that's all about, you guessed it, taking part in the craziest party on the planet.
Your Daily Blend of Entertainment News
Staff Writer for CinemaBlend.