Ark: Survival Evolved Developer Is Being Sued, Here's What We Know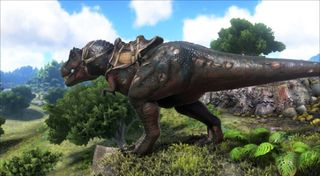 Studio Wildcard seemingly came out of nowhere in early 2015 and announced that ARK: Survival Evolved would be launching into Early Access around the same time as the release of the movie Jurassic World. It was perfect marketing on their part, but little did they know that a potential key member of the team was putting them at risk for being sued.
Kotaku did a lengthy write-up on the potential nasty lawsuit that could get underway involving two unlikely parties: Studio Wildcard and Trendy Entertainment.
Yes, you read that right. Trendy Entertainment, the same company behind the once massively popular Dungeon Defenders, is suing Studio Wildcard over the involvement of their former employee, Jeremy Stieglitz.
According to the article, Trendy believes that Stieglitz violated his no-compete clause in his contract and that he failed to cease and desist when poaching employees from Trendy when building Studio Wildcard, and that Stieglitz used crucial technology licensed under Trendy to build ARK: Survival Evolved.
The article notes that Stieglitz' no-compete clause – where he was not supposed to join another development studio that could compete in the market against Trendy Entertainment – was supposed to last up until August, 2015. This agreement was signed just before Stieglitz left the company in August, 2014.
While it seems easy to dismiss this as Trendy being petty over a valued employee leaving the company, the evidence does appear to fall in their favor. The makers of Dungeon Defenders discovered that Stieglitz' wife, Susan Claire Stieglitz, was working with Studio Wildcard under her maiden name Susan Browning and was the co-founder of the company. Trendy surmised that Jeremy Stieglitz played a major role in the success of ARK: Survival Evolved under Studio Wildcard.
What's interesting is that Kotaku was unable to exactly confirm the role that Stieglitz occupied at Studio Wildcard, other than that they were told the former Trendy employee was working as a consultant.
As some of you know, ARK: Survival Evolved launched in June of 2015. So if Stieglitz was actually working with Studio Wildcard in a development capacity, it would be in breach of his no-compete clause that ran through August, 2015.
Trendy tried to argue in their suit that ARK: Survival Evolved was in direct competition with their Dungeon Defenders series and that Stieglitz joining Studio Wildcard has cost them. Just to be clear, both games are not competing in anyway. Dungeon Defenders is a strategic tower-defense games on last-gen consoles and PC, and ARK: Survival Evolved is a dinosaur survival game on Xbox One and PC at the moment. Heck, Dungeon Defenders 2 is on the PS4 right now and ARK won't be arriving on the PS4 until June. So there's a platform discrepancy in the claim about software competition.
Of course, some people are probably wondering why Stieglitz would even risk working with Studio Wildcard on ARK: Survival Evolved in breach of his contract, but from a timing perspective it's not like they were going to get another opportunity to launch alongside the hype of Jurassic World – where they managed to get a lot of coverage from enthusiast and mainstream press alike – had they waited until after August. The question is, was it worth it?
Studio Wildcard has not filed any briefs, according to the article, but they filed a motion to dismiss the lawsuit altogether. It will be interesting to see how this turns out.
Your Daily Blend of Entertainment News
Staff Writer at CinemaBlend.