Ark: Survival Evolved Is Getting A Sweet New Feature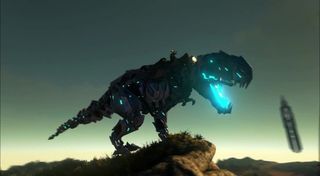 Studio Wildcard has hit major success with the launch of ARK: Survival Evolved. The game has sold millions of copies and has recently become available on the Xbox One through the Game Preview program. What's more is that Microsoft's home console will get an exclusive mode for the game.
According to Gamespot, ARK: Survival Evolved will receive a split-screen feature for the Xbox One in early 2016. Studio Wildcard creative director and co-founder Jesse Rapczak explained to Gamespot...
Rapczak is taking a direct dig at 343 Industries with that line. For those of you who haven't been keeping track of the headlines, Microsoft and 343 Industries released Halo 5: Guardians back in October, but it was missing one of the core features that helped make the franchise popular in the first place: split-screen co-op.
Halo 5 was the only major first-person shooter with a multiplayer component – apart from Rainbow Six: Siege – that released this fall that didn't have split-screen local play. Star Wars: Battlefront and Call of Duty: Black Ops 3 both feature split-screen cooperative modes for between two and four players, locally.
343 Industries and Microsoft made a number of comments about having to abandon split-screen play for Halo 5 leading up to release, which set the gaming community on fire. A lot of people claimed that their pre-orders were cancelled in response to the game not having split-screen. And while it's a running joke in the gaming community for people to say "pre-order cancelled!" apparently it was no joke for Halo 5 since it had the lowest opening sales numbers for a major Halo title released within the past two generations.
Studio Wildcard can gain a lot of support from the Xbox community with the inclusion of the local split-screen mode. Based on the feedback around the net, gamers are absolutely in love with the idea of the split-screen feature coming to the Xbox version of ARK: Survival Evolved.
Already the developers are running the split-screen feature internally but they plan on launching it for the public in early 2016. ARK managed to sell more than 2 million copies shortly after launching on Early Access for Steam back in June of this year, and they've steadily gained a strong player base ever since. It's also one of the consistently top selling and most played games on Steam at the moment.
I'm sure with the developers announcing the split-screen feature, 343 Industries are kicking themselves right now for having abandoned it in Halo 5 for the variable 1080p and 60fps. On the upside for 343, they've already said that they're looking at bringing split-screen back for Halo 6.
As for ARK: Survival Evolved, the game is currently available right now for $34.99 on the Xbox One as part of the ID@Xbox Game Preview program. This means that it is not finished, it is still in development and it still has a ways to go before it's complete. The current Xbox One version contains all of the latest optimizations and content packs that the PC has, and then some. Exclusive clothing items and a new Bionic T-Rex have been exclusively added to the Xbox One version of the game.
There's no word from the developers if the game will also support split-screen play on the PS4 but I'm sure we'll find out as it nears completion for all three platforms. ARK: Survival Evolved is scheduled to release on PC, Xbox One and PS4 in its final form in June of 2016.
Staff Writer at CinemaBlend.
Your Daily Blend of Entertainment News
Thank you for signing up to CinemaBlend. You will receive a verification email shortly.
There was a problem. Please refresh the page and try again.