Avengers: Battle For Earth Could Be The Avengers Console Game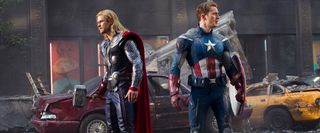 Every summer blockbuster seems to get a tie-in video game and The Avengers, which opened last week, won't buck the trend. A new website registration suggests that a game called The Avengers: Battle For Earth will be announced soon.
Fusible says that the URL avengersbattleforearth.com was registered by Marvel Characters, Inc. last week. The URL is also mentioned on the nameservers for Ubisoft: nic1.ubisoft.com and nic2.ubisoft.com.
Thus far, the only Avengers game out there is Marvel: Avengers Alliance on Facebook. Marvel said previously that their plans are much larger than just that one social game, though.
"We launched Marvel: Avengers Alliance on Facebook; which is just the tip of the iceberg," TQ Jefferson, vice president of games production for Marvel, said in a recent interview. "This is the first in a much larger effort to support the Avengers franchise across not just one but multiple video game touch points. The Avengers are bigger than just one game, and we're planning to allow consumers to enjoy The Avengers regardless of their preference in gameplay style or platform. Look for more announcements in the weeks to come."
It seems likely that a huge console game will be part of the plan. We are talking about a film that was hyped to the heavens, after all. It wouldn't feel right for Marvel not to milk the franchise in every way possible.
Maybe they missed a big opportunity by not releasing a console game on the same week that the film hit theaters. However, it could be a savvy business move to wait. Many tie-in games have the exact same plot as the film itself. The potential for spoilers might dampen enthusiasm for the film itself. Also, nothing makes you less jazzed up to see a film than a shitty game adaptation. The Avatar game made me a lot less excited for the film. Releasing the game after everyone's already seen the film minimizes that risk.
A long wait for an Avengers game could be a good thing for consumers, too. The reason that a lot of game adaptations of films suck is that companies rush these games so that their release coincides with the film's debut. Allowing the developers to finish the game at their own pace will hopefully result in a game that's actually worthwhile.
Staff Writer at CinemaBlend.
Your Daily Blend of Entertainment News
Thank you for signing up to CinemaBlend. You will receive a verification email shortly.
There was a problem. Please refresh the page and try again.