Bastion Developer Has A New Game Coming, Here's What We Know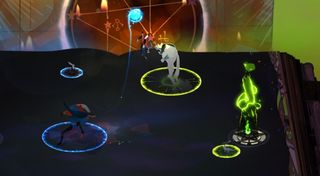 A new action-RPG for the PlayStation 4 and PC called Pyre is set for release in 2017 from Supergiant Games, the creator of Bastion and Transistor. The new title will be a party-based RPG where players will venture through a mystical purgatory on a journey to absolve themselves of being exiles.
GameSpot details more of the game by explaining that players will start with a character at the near brink of death in the wondrous but dangerous land where exiles are attempting to escape from purgatory. In order to get out there's a competition that is held between exiles, where the worthiest of the group will be granted absolution of their past transgressions and the right to be free of being an exile. What makes the game different from others is that the other party of exiles will be fighting for their freedom just like your own characters, so there's something at stake for everyone involved, creating a very dynamic story arc for the character development.
Players will be able to gather up a worthwhile party of characters of all shapes and sizes, with the game utilizing combat and gameplay not unlike what was featured in past Supergiant Games such as Bastion and Transistor, with real-time combat, dynamic magic and attacks being at the disposal of players. You can get an idea of what the gameplay, graphics and visual aesthetic is like with the trailer below.
Graphically, the game is very intriguing. The mix of 3D models in what looks like hand-painted backgrounds gives the game a very artsy feel. The animations of the traveling caravan that players will use to venture throughout the world gives the game a fun-filled look, and the hint of yet another awesome original soundtrack from Supergiant (and presumably Darren Korb?) could help put Pyre up there as another noteworthy game from the independent developer.
The new title appears to take a mix of elements from both Bastion and Transistor, with the real-time combat and the arcane magic. I'll admit that Transistor was a little harder to get into because there was a lot of backstory and subtext happening within the world that required a lot more exposition than what was present in the early goings of the game. The awesome retro-tone, futuristic society and circuit-board art-deco aesthetic that highlighted the architecture and technology of Transistor is what helped make it stand out and draw me in as a player, but Bastion was definitely the easier game to follow and seemed to have some very emotional stakes for players to invest in throughout the game's story.
Hopefully Supergiant can find a nice balance between the cool visuals of Transistor (which they appear to have managed to accomplish based on the Pyre trailer above) and the story gravitas of Bastion to really nail another home run with the upcoming title.
You can look for Pyre, the isometric, party-based RPG to go live in 2017 for PC and PS4.
Staff Writer at CinemaBlend.
Your Daily Blend of Entertainment News
Thank you for signing up to CinemaBlend. You will receive a verification email shortly.
There was a problem. Please refresh the page and try again.