Batman: Arkham Knight PC Version Now Has A Release Date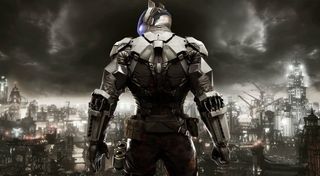 Warner Bros and Rocksteady Studios have finally set an official re-release date into stone for the PC version of Batman: Arkham Knight. The game will be made available again for purchase starting October 28th on Steam.
There was a recent update made by community administrator, Yorick, who let gamers know that the PC version of the game will be brought up to par with the console versions and that all of the previously released DLC will also be compatible with the PC version of the game. It's mentioned on the Steam community page...
There's a long list of content that PC gamers will have available to them when the game re-launches next week on October 28th.
All of the previously released AR challenges for Batman: Arkham Knight will be made available, including Teen Titan and Assault on GCP. The Crime Fighter Challenge packs are also included, along with the Batmobile Race Track packs. The latter includes the classic Batman themes from the old 1960s television show, along with the Batmobile and race tracks Tim Burton's dark masterpiece in 1989, and then there's the unforgettable Tumbler from Christopher Nolan's Dark Knight trilogy.
In addition to the miscellaneous DLC, there are also four extra story missions to look forward on PC, including the Batgirl missions "A Matter of Family", the Red Hood pack, the Harley Quinn pack and the Gotham City Police Department lockdown starring Nightwing.
There's also a ton of skins that will be available, including the much requested 2008 Dark Knight suit that Christian Bale wore.
Of course, the comment section is still full people who are rightfully angry that they paid for a product that doesn't work so well and that it launched in such a broken state that the company had to pull it from the digital store shelves to fix it for the past three months. However, some are thankful that Warner Bros has taken some time to fix the problem instead of leaving Arkham Knight broke on Steam similar to other games suffering debilitating issues like Dark Void and the DRM situation.
Yorick did thank gamers for offering their feedback on the more serious performance bugs that have been affecting Arkham Knight on PC. It wasn't quite enough to assuage some members from feeling salty about the whole experience, which is understandable given that when a company launches a product it's expected to work, especially if the full game and the season pass sees gamers paying close to $100 for it.
For those wondering, no there will not be any free DLC for Warner Bros massive delay of the game on PC. Their "gift" to PC gamers is making all the previously released DLC purchasablee and usable starting October 28th. It looks like Batman: Arkham Knight will return just in time for Halloween.
Staff Writer at CinemaBlend.