Batman: Arkham Knight PC Version Almost Here, Fans Still Pissed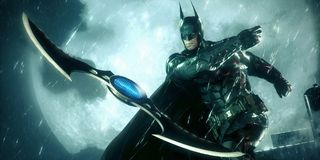 Batman: Arkham Knight's PC version is almost set to be re-released. Warner Bros. gave an estimate for its release date on Steam late Thursday.
According to the Steam post, we can expect Arkham Knight to be on sale for PC later this month:
The announcement concluded by thanking fans for their "continued patience and support." The comments by Steam users don't show much of either, though:
Anyway, you get the idea. There are pages and pages of middle fingers, broken up by the occasional penis drawing.
The anger's not all that surprising. PC gamers have been waiting since June for Arkham Knight to be fixed. The launch build of the game suffered from abundant texture and framerate issues along with crashes. Many PC owners were also upset at the lack of options for the game as well. For example, there was no way at launch to raise the framerate above 30.
Warner Bros. pulled the PC version of the game from stores just days after launch so they could work on patches. They've released a couple updates thus far to address the game's problems. While the game's in considerably better shape now, no one can understand why WB didn't put in this effort prior to launch.
The (functioning) console versions of Arkham Knight are a blast and I imagine the PC edition will be too when it's finally fixed. I am curious, though, whether many PC gamers will give it a shot due to fourth months of problems.
Staff Writer at CinemaBlend.
Your Daily Blend of Entertainment News
Thank you for signing up to CinemaBlend. You will receive a verification email shortly.
There was a problem. Please refresh the page and try again.