Call Of Duty: Black Ops 2 Announcement Coming May 2nd?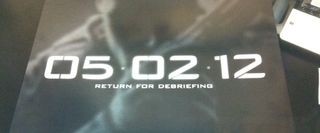 Activision may be on the verge of revealing the long-rumored sequel to Call of Duty: Black Ops. A leaked poster from a retailer suggests that an announcement will be made in the first week of May.
"05-02-12 - RETURN FOR DEBRIEFING," reads the poster (via Kotaku). Behind this text is the silhouette of a man holding a gun. At the bottom of the poster are the company logos for Activision and Black Ops developer Treyarch.
Clues of a Black Ops sequel have been cropping up over the past year. Activision allegedly purchased BlackOps2.com in January. Two overseas retailers listed and then quickly delisted the game. The title has popped up in at least one LinkedIn profile as well.
Black Ops, released in 2010, was set during the Cold War. Players participated in secret missions in Vietnam and Cuba, among other hot spots. It was the first COD game that took place in that era so there's plenty of material left for a sequel.
While the poster could be a fake, it seems plausible that Activision would announce the next Call of Duty on May 2nd. This is the time of the year that they like making COD reveals. For example, they announced the first Black Ops on April 30th, 2010 and Modern Warfare 3 on May 14th last year.
Staff Writer at CinemaBlend.
Your Daily Blend of Entertainment News
Thank you for signing up to CinemaBlend. You will receive a verification email shortly.
There was a problem. Please refresh the page and try again.