Crysis Remake Coming To Xbox 360 And PS3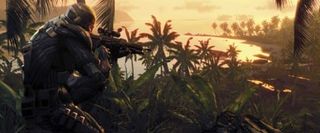 Console gamers missed out on Crysis when it was first released in 2007. However, Crytek revealed today that they're remaking the PC shooter for the PS3 and Xbox 360.
Crysis takes place in the near future. An alien structure has been discovered on an island off the coast of the Philippines. A team of Delta Force soldiers, wearing advanced nanosuits, is sent to the island to rescue a research team and recover their findings. The player takes on the role of one of these soldiers and must battle North Korean soldiers and aliens in an effort to complete his mission.
The PS3 and Xbox 360 remake is said to have remastered visuals. The trailer below promises new lighting and other special effects. The original game looked pretty amazing but four years of tech should polish it up further.
The Crysis remake will be released in October 2011.
Get More: GameTrailers.com, Crysis - Exclusive Debut PS3/Xbox 360 Trailer, PC Games, PlayStation 3, Xbox 360
Your Daily Blend of Entertainment News
Staff Writer at CinemaBlend.
Your Daily Blend of Entertainment News
Thank you for signing up to CinemaBlend. You will receive a verification email shortly.
There was a problem. Please refresh the page and try again.