Dark Souls 2 PC Launching In April With Enhanced Frame Rate, Resolution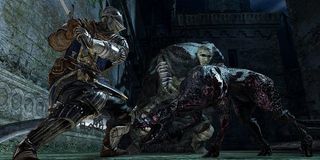 Namco Bandai confirmed today through Facebook that Dark Souls 2 will launch on the PC on April 25th. They've also announced that they're including a few features that were widely requested by PC gamers.
The first Dark Souls was restricted to 30 frames per second on PC. Players were forced to download an unofficial mod to get up to 60fps. Namco says that the Dark Souls 2 on PC will include an "enhanced frame rate" option so that players with high-end machines can experience smoother action.
Low resolutions were another complaint leveled at the PC version of Dark Souls. Again, players had to resort to a fan mod to fix the issue. Dark Souls 2 will fortunately feature increased texture resolution.
Maybe the boldest claim made by Namco Bandai is that they're going to "perfectly adapt the game for a mouse & keyboard combo." I have trouble believing that gamepads won't still be the superior option by a long shot. PC gamers insistent on not buying a controller should be happy to hear that their control scheme of choice is getting attention, though.
Dark Souls 2 on PC is available as a standard edition or collector's edition. Pre-ordering either bundle gives you access to the Black Armor Weapons Pack, which includes the following bonus items: Black Flamestone Dagger and Black Flamestone Parma – A dagger and shield encrusted in Black Flamestone both found in the Gutter at Black Gulch. Even though they are heavier than a normal dagger and shield, the Flamestone crystal's unique properties make the dagger extremely sharp and give the shield high resistance to damage.
Yellow Quartz Longsword and Yellow Quartz Shield – A straight sword and small shield hardened with yellow quartz both uncovered at the bottom of the Iron Keep. Even though these items can break easily due to their high level of corrosion, they are exceptionally light and their power to inflict damage has not declined.
Bound Hand Axe and Bound Wooden Shield – A brutal hand axe and shield found in the Undead Purgatory. Both items are wrapped in chains and thorns to cause additional bleeding on enemies. Both the axe and shield have diminished in overall slashing power but their ability to deliver pain has been deliberately increased.
Homunculus Mace and Homunculus Wooden Shield – A mace and shield with spherical protrusions found in Aldia's Keep. Although heavier-than-normal maces and shields, the hard protrusions greatly increase the striking power of the mace as well as the shield's defensive capabilities.
Transgressor's Staff and Transgressor's Leather Shield – A staff and leather shield entwined with an unknown and seemingly lackluster element; these items are found in the Dark Chasm of Old. They have become a catalyst for sorcery and hex, and they cause an effect known as Darkness.
Gamers who pre-order through Steam, GameStop, Amazon, or ClubNamco are entitled to other digital extras as well, such as an artbook, comic book, and soundtrack.
Dark Souls 2 will debut on Xbox 360 and PS3 on March 11th. The first review published in the world says it's the hardest game yet.
Accompanying today's announcement are a batch of screenshots from the PC version of DS2. You can check them all out below.
Image 1 of 7
Your Daily Blend of Entertainment News
Staff Writer at CinemaBlend.