E3 2011: ICO And Shadow of the Colossus Collection Get September Release Date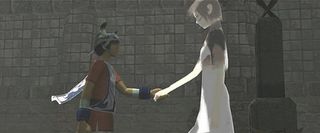 Today Sony announced a new release date for the Blu-ray compilation of PS2 cult classics ICO and Shadow of Colossus. The double pack will arrive on the PS3 in North America on September 27th.
The ICO And Shadow of the Colossus Collection was supposed to be released this spring. However, Sony announced a delay to it and upcoming Team Ico project The Last Guardian in late April. Guardian has yet to receive a new release date.
ICO and Shadow of the Colossus have both been remastered for full 1080p HD resolution. They also support full stereoscopic 3D and 7.1 surround sound. Trophy support is included, too.
If you're not familiar with either game, the trailer below should get you up to speed.
Staff Writer at CinemaBlend.
Your Daily Blend of Entertainment News
Thank you for signing up to CinemaBlend. You will receive a verification email shortly.
There was a problem. Please refresh the page and try again.