Elder Scrolls Online No Longer Requires A Subscription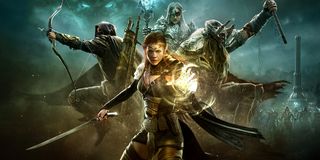 Nearly a year after Elder Scrolls Online's launch, ZeniMax has removed the subscription requirement from the MMORPG. PC and Mac gamers who own the game can now play it for no additional charge.
You'll still have to buy a copy if you don't have one. The Standard Edition is $60 while the Imperial Edition is $120. The latter comes with a Molag Bal Statue, printed map, a bonus playable race and more. However, once you've got a copy, you don't need to pay a monthly fee.
The game will now be supported through optional microtransactions. The Crown Store sells pets, mounts, and costumes for real-world money. You can also purchase the following consumables to make your adventures through Tamriel easier:
Crown Repair Kits: These kits allow you to repair all currently-equipped items with a single use.
Crown Potions: These can be used at any level, and the strength is equivalent to your level. These are slightly better than potions that are dropped from monsters or purchased from a vendor, but never better than a crafted potion.
Crown Soul Gem: These can be used at any level on another player character of any level. When used to charge a weapon enchant, the enchantment becomes fully charged.
None of the items purchased through the Crown Store can be traded or sold to other players. Crowns, the virtual currency for the store you purchase with real-world money, likewise can't be traded. You have to open up your wallet to get access to any of the Crown Store's offerings.
If you'd rather pay a monthly subscription instead of making individual purchases, you can still do so. Subscribers, dubbed "ESO Plus members," will get a monthly allowance of crowns for the store. Their experience point gain, crafting research, crafting inspiration gain and gold acquisition will be 10% higher than usual. Furthermore, ESO Plus members will also have access to all premium DLC that ZeniMax releases for the game such as zones and quests.
"DLC will be available for purchase in the Crown Store on an a la carte basis," ZeniMax says in their FAQ. "DLC purchased on an a la carte basis will be available to you for as long as The Elder Scrolls Online: Tamriel Unlimited is available. Members of ESO Plus will receive complimentary access to all DLC game packs for the duration of their membership."
Personally, I gave up on ESO about a month after the game's launch. The traditional Elder Scrolls formula didn't translate well to a massively multiplayer environment in my opinion. I also felt like the game's group content left something to be desired. Still, I might give the game another whirl if only to try out the new Justice system, which allows players to kill or rob townspeople.
The new, subscription-optional business model will be available for Xbox One and PS4 as well when they launch in June. Players on those consoles will need to pay their PlayStation Plus or Xbox Live Gold membership to play ESO, though.
Your Daily Blend of Entertainment News
Staff Writer at CinemaBlend.