Evolve Mobile Game Boosts Your Progress In Full Game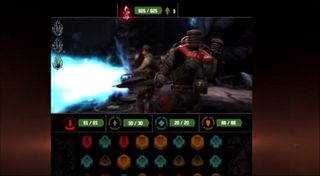 Turtle Rock Studios and 2K Games are taking the match-3 gameplay from popular mobile titles like Bejeweled, and implementing them into a companion app for the upcoming console and PC release of Evolve. The companion app will not only allow you to play the puzzle game and unlock new features, it'll also allow you to carry over some of those unlocks into the main game.
The news comes courtesy of an updated post over on the official Evolve game website, where a brand new promotional trailer was unveiled to give you a glimpse at how the match-3 app works, as well as some of the details on how you can utilize the app to boost the master levels of the hunters in the game.
Yes, the companion app will allow you to carry over boosts to help you out on the main game, as well as allow you to unlock other goodies like artwork and a replay system. You can see the app in action and how it'll look and play with the 30 second promo trailer below.
Now technically, you don't need the app and you don't need to play to unlock things for the main game. You don't even need to link your account to get the benefits from the crossover game. However, if you really want to get that crossover appeal from the app you will need to link your 2K account to the Evolve Hunters Quest app so that way when you log into the game you'll retain whatever stats you unlocked from the app.
We're beginning to see a lot of AAA titles take this route with the promotion of their games. Previously we saw Grand Theft Auto V using the app so you could feed your dog and whatnot. The only real benefit that came out of it was a few assets revealing the PC version of the game.
As for Evolve... I'm still not sold on the title. This companion app won't really do anything for those of us who already feel as if the game is lacking where it counts most: gameplay depth.
Worse yet is that there are microtransactions for the app, so technically you could pay to speed up the unlock process for the Xbox One, PS4 or PC version of Evolve. I'm sure some people may have some serious problems with that.
For the most part, Evolve feels like an experiment that needed to be fleshed out a bit more, based on my experience with the game during the beta.
The other big turnoff was all the post-launch DLC, there appeared to be an encyclopedia-sized compendium of DLC that 2K and Turtle Rock have planned with the digital deluxe, pre-order and limited edition bundles for the game. Whatever happened to: here's the full game with the final price, you pay this price and you get the whole game.
All this pre-release piecemeal stuff for DLC makes a lot of AAA games an instant turnoff. I know there are those who will always say that DLC is optional, and I know that Turtle Rock has already committed to Evolve's DLC maps being free for everyone so they don't fragment the community, but it always irks me when you have a roadmap of content people can pay for even though it doesn't exist yet (or... maybe it does?)
You can pick up a digital copy of Evolve Hunters Quest right now from participating mobile app distributors, including copies for Android and iOS devices, or you can look for Evolve to launch on the Xbox One, PS4 and PC on February 10th.
Your Daily Blend of Entertainment News
Staff Writer at CinemaBlend.