Fans Might Be Rewarded For Seeing The World Of Warcraft Movie, Blizzard Says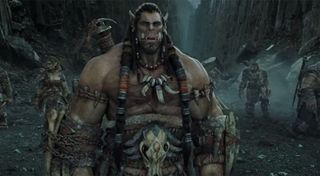 Blizzard is trying something new with boosting up the appeal of the flailing subscriber base of World of Warcraft: they could be offering up a bundle pack of all previously released expansion packs of WoW for people who decide to go to see the upcoming movie.
Nerdist is reporting that Blizzard has sent out a survey asking what people think about a World of Warcraft: Ultimate Movie Edition bundle for people who buy a ticket to go see the upcoming live-action Warcraft movie due out this summer.
Over on PC GamesN they list exactly what the bundle will contain (assuming Blizzard goes ahead with it). The survey shows that potential movie goers could walk out of the theater with a standard copy of World of Warcraft and an entire month's worth of free game time, an exclusive in-game item, and the Burning Crusade, Wrath of the Lich King, Cataclysm, Mists of Pandaria and Warlords of Draenor expansions.
Nerdist notes that the most recent expansion, World of Warcraft: Legion, will not be included in the bundle. That makes sense, it's like Blizzard is getting all the newbies hooked and hope that they take such a liking to the experience that they'll drop a few dimes on Legion.
Given that World of Warcraft has been bleeding subscribers for a while now (and surprisingly it hasn't been to any of the dozens of World of Warcraft killers that have popped up over the years) it makes sense that Activision-Blizzard would put some real effort in attempting to revitalize the game while the movie becomes hot property in theaters.
The inevitable tie-in was bound to happen, but instead of a terrible, poorly made Warcraft third-person hack-and-slash shooter with lazy voice-acting and shoddy controls, Blizzard is just dipping back into a resource pool they already have. It makes complete sense, really.
That's not to mention that Blizzard technically doesn't have to capitalize on this at all. They've been making money hand-over-fist recently with some amazing products. They're a completely different arm from the rest of Activision, which seems to have a lot of hit and misses with every other property that isn't Skylanders and Call of Duty.
In fact, Blizzard makes tens of millions each month alone on Hearthstone: Heroes of Warcraft and their new MOBA Heroes of the Storm. They have a dedicated fandom with StarCraft and the continued and strong presence of the game in the eSports scene, along with infrequent releases for Diablo 3, which really took a turn upward for the best following its abysmal 2012 launch.
There's really nothing that could go wrong with this bundle if Blizzard decides to go through with it, and given that if the upcoming Warcraft movie could become the next Lord of the Rings or Star Wars if it's handled properly enough, it makes sense to push incentives by selling tickets through the promise of free in-game goods. Heck, even long-time fans who already own all the WoW expansions might be inclined to get the bundle just to see what the free, exclusive in-game item will be.
You can look for the Warcraft movie to launch on June 10, later this year.
Your Daily Blend of Entertainment News
Staff Writer at CinemaBlend.