Get A Surprise Legendary Pokemon For Free Starting Today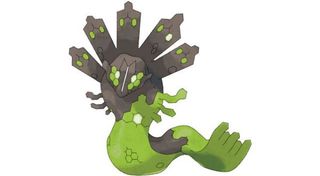 The Pokemon Company is rewarding gamers outside of Japan with a free legendary Zygarde at level 100. The Pokemon is part of Nintendo's continued promotion of the Pokemon brand throughout this year as part of the 20th anniversary, in which they've been releasing new games and new content.
As noted by ComicBook.com, the Zygarde will be free for some time for those in Europe and North America. The Pokemon supposedly was "quietly" distributed throughout Europe first and then just recently Nintendo and the Pokemon Company let the legendary beast free for North Americans.
You can get the free Pokemon in Pokemon X & Y as well as Pokemon Omega Ruby and Alpha Sapphire. In order to attain the Pokemon you'll need to head to choose the "Mystery Gift" option from the main menu of the games. In order to retrieve the actual Pokemon you'll need to pick it up from the Delivery Woman located at the Pokemon Center in-game.
The Zygarde was already given out to Japanese gamers who own Pokemon X or Y as well as Pokemon Omega Ruby or Pokemon Alpha Sapphire last year. Gamers in the West are getting their hands on this legendary Pokemon a little later than those in the East, but it's better late than never.
The Zygarde is a dragon-type Pokemon with multiple forms, starting as a cell, working its way up to a core, and then a dog looking creature before turning into two other forms. ComicBook.com believes that the reason this particular Pokemon was given away was because of a tie-in with the Pokemon's appearance in the anime.
The Zygarde has only briefly appeared in the cartoon and manga, so it's not necessarily one of those really popular Pokemon that a lot of people knew about. Then again, that's probably what makes it legendary and why it might end up being a lot more popular now that some gamers can get their hands on this legendary monster for the time being.
Nintendo has been giving away free Pokemon each month throughout the past months in celebration of the 20th anniversary of the brand, and all of the ones they've given away have been of legendary status, giving gamers a rare opportunity to add these beasts to their collection.
Later on this year Nintendo and the Pokemon Company will also unveil Pokemon Sun & Moon for the Nintendo 3DS along with Niantic's Pokemon GO. We still haven't seen a lick of gameplay footage of the former games yet, even though we were promised to see some kind of footage at some point during a morning variety show.
However, preceding Pokemon Sun & Moon has been Bandai Namco's Pokken Tournament, which recently came out for the Wii U. The game is a fighting game that sees a variety of Pokemon doing battle in closed off arenas. There's definitely ample opportunity there to release some DLC for the game featuring some of these legendary Pokemon, but it seems like Nintendo could be winding down support for the Wii U.
Anyway, you can get your hands on the Zygarde right now, for free, for a limited time. All you need is a copy of the aforementioned Nintendo 3DS titles and you're good to go.
Your Daily Blend of Entertainment News
Staff Writer at CinemaBlend.
Your Daily Blend of Entertainment News
Thank you for signing up to CinemaBlend. You will receive a verification email shortly.
There was a problem. Please refresh the page and try again.