Here's How You Can Get A Free Copy of Minecraft with Windows 10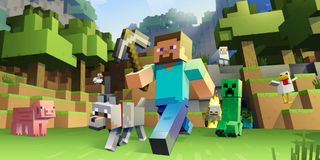 If you've been looking forward to Windows 10, you've got another round of goodies to look forward to as well.
Mojang announced earlier this month that it will be launching the beta for a special new version of Minecraft, and that's the Windows 10 Edition. It'll be available to anyone who purchased the original PC/Mac edition for free.
Today, given the fact that Windows 10 is launching tomorrow (July 29) Mojang posted instructions (via GameSpot) on how you can get your hands on your free copy of the game on its official website. When the Windows 10 update becomes available tomorrow, you need to log into your Mojang account for Minecraft, click on the Redeem button, log in with a working Microsoft account, and claim a copy of the game. Very short and sweet process that will no doubt have players scrambling to get a new copy, especially those who have been playing for years.
Minecraft is a veritable juggernaut in the PC gaming world, with a bustling mod community, dedicated Let's Play streamers, and hundreds of variations on play to keep things fresh. Nearly everywhere you go, even in department stores, you see the gaping mouths of Creepers, blank stares of Steve heads, and even diamond pickaxe styluses. If you've got the opportunity to get this free version, you should absolutely jump on it.
Windows 10 isn't anything to sneeze at, either. Tomorrow it'll launch on the same day as the Windows 10 Edition beta, and it's free to users who already have Windows 7 and Windows 8. Minecraft itself will be available for $10 during the beta's window for anyone who still hasn't ponied up for the game. It's hard to wrap my head around the fact that there are still people out there who don't have a copy of the game, but they certainly do exist.
Buying a copy of the game ensures you'll get the new Windows 10 Edition beta as well, and access to any updates in the future as well. With the amount of Minecraft mods, themes, and other expansions out there, this is access that you'll no doubt want to have as well.
There's no official details on how long the beta will last before it turns into the official next phase of the game, so you'll want to get in on this early if you're interested. Fundamentally it can't be all that different from what you're already used to, but a little haste couldn't hurt in this situation, especially considering all the Minecraft fans out there in the world. And there are a ton.
Your Daily Blend of Entertainment News