Just Cause 2 Multiplayer Just Got A Huge Update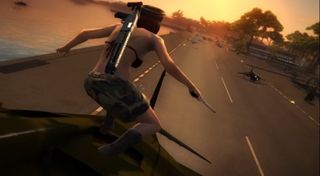 The largest update yet to the Just Cause 2 multiplayer mod will go live on November 11th. The changelog to the mod has been made public, so that gamers can see all of the massive changes that the developers have implemented into the game, which range from basic optimization for AMD cards to all new scriptable NPCs that can be used client-side for multiplayer.
The news was announced over on the official JC2 website, where they rolled out a massive changelog for version 0.2 of the JC2 Multiplayer Mod.
They start off by mentioning that the most important changes are in the form of bug fixes and optimization to AMD graphics cards. This helps the game perform better for gamers out there using Radeon cards. They also noted that server owners running Just Cause 2 MP servers can start updating their servers with the latest public beta branch for version 0.2.
From there on it's all about the big content drops. Starting November 11th, just a day after Bethesda's highly anticipated Fallout 4 goes live, the 0.2 update will be available to the public for Just Cause 2... but I wonder who's going to give up rummaging through Boston's wasteland to check out the tropical updates in Avalanche Studio's half-decade old title?
Well, for those who can't wait for the JC2-MP update it will contain the all new AI scripting mechanic, which will allow users to script their own client-side NPCs to interact with other players in the JC2-MP world.
This could be a real game changer given that scripted NPC actions will allow players to build some impressive missions for the multiplayer portion of Just Cause 2. That could easily see the game's lifespan expanded greatly. Can you imagine working together with other players to take on some co-op missions?
In addition to having scripted NPCs, the JC2-MP Mod developers have also made it possible to play as any of the civilians in the game. All all 34 different civilian models that were used throughout the campaign can be played with in the multiplayer mode.
Depth-tested rendering has been added. This gives players the ability to render objects inside the game world. The Unicode support also makes it possible for Just Cause 2 to support far more languages, making it possible for more gamers the world around to participate and communicate in their own native language.
One of the things I think is most interesting is the inclusion of the Steam achievements for the mod. It's still baffling to me that the JC2-MP Mod has become big enough that it's now officially supported through Steam and has its own separate achievements. The developers should be very proud of that accomplishment... adding onto and extending the tail end of Just Cause 2's market presence is just beyond impressive.
The multiplayer mod has been in the works for years, though, so this wasn't an overnight venture. It also gives gamers some kind of scope on the amount of dedication and time it takes to make a robust, fully featured multiplayer mode for a game that's generally designed to be played in single-player.
Avalanche Studios has already committed to making Just Cause 3 mod-friendly, taking an opposite approach that Rockstar and Konami have with GTA V and Metal Gear Solid V. So we'll see what modders cook up for the third game when it launches this December.
In the meantime, you can look to grab the newest version of theJC2-MP Mod on November 11th from Steam.
Staff Writer at CinemaBlend.
Your Daily Blend of Entertainment News
Thank you for signing up to CinemaBlend. You will receive a verification email shortly.
There was a problem. Please refresh the page and try again.