League Of Legends World Championship 2013: SKT Beats Royal Club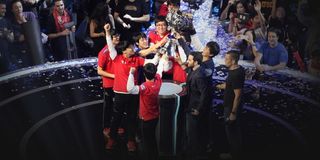 Last night, the Season 3 World Championship for League Of Legends was held at the Staples Center in Los Angeles and was stream courtesy of Azubu.tv. Korean team SK Telecom T1 swept their Chinese opponents Royal Club to become this year's champion.
Royal began the finals by banning out SKT's preferred Champions. However, SKT jungler Bengi shined with Jarvan. Thanks to some skillful ganking, he was able to help the team maintain control of the map. His performance, along with his team's early tower captures, were too much for Royal to overcome.
For Game 2, Royal decided to let SKT have their favorite Champions such as Lee Sin and Zed. They then opted to roam the field with glass cannons. Royal was able to win some team fights but SKT's more methodical approach of pushing towers gave them a serious gold advantage. It was an advantage that Royal ultimately couldn't overcome at the end.
Hopes for a miraculous comeback from Royal didn't materialize. In Game 3, SKT kept up the pressure and executed their lane swaps well. They managed to defeat their opponents in under 21 minutes, making it the most one-sided match of the night.
"From top to bottom, Royal's lanes were no match for SKT all night. Uzi, the ace of Royal, couldn't overcome Piglet and Mandu in the bottom lane, finishing his World Finals in disappointment," reads the official recap of the finals. "A team that was put together from solo queue superstars, SK Telecom T1 turned themselves from five people who simply played League together into the champions of the world, playing with crisp coordination and teamwork."
SKT was favored coming into the match so the result wasn't a huge shock. Still, many thought Royal Club had a shot. The Chinese club had a turbulent season but performed impressively in the World Championship tournament. They advanced to the finals by beating Chinese juggernaut OMG and top European seed Fnatic in previous rounds.
By winning the championship, SKT earned a purse of $1 million. Though they fell short of the crown, Royal Club won't go home empty-handed. They earned a second prize of $250,000.
You can watch the full finals in the video below. The first match begins at 1:54, the second at 2:47 and the third at 3:53. Below the full video is a compilation of highlights from the finals.
Staff Writer at CinemaBlend.
Your Daily Blend of Entertainment News
Thank you for signing up to CinemaBlend. You will receive a verification email shortly.
There was a problem. Please refresh the page and try again.