Living Dead Releases New Bioshock Clothing Line, Check It Out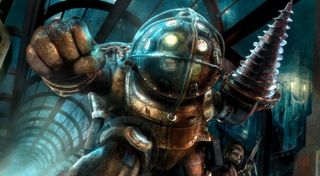 An online clothing company called Living Dead have added 26 articles of clothing to their online collection based on 2K Games' BioShock series. The collection features clothing themed around both BioShock and BioShock 2.
Daily Dot picked up the news, reporting that Living Dead's collection of clothing is available for purchase right now in extra small, small, large, extra large and extra, extra large sizes. The clothing items range from t-shirts and leggings to dresses and swimsuits.
The clothing company teamed up with 2K Games to give gamers and non-gamers alike some apparel to throw on that highlights some of the aesthetic charms of the BioShock universe. In one example there's a Big Daddy Cosplay Skater, which is sundress with the Big Daddy helmet sprawled across the upper body and some metal rivet designs stretched across the lower half, presumably imitating the look of his infamous drill. There's an image of the dress that you can check out below, which is one of many available on the Living Dead website, which is located over in Australia.
Some of the other clothing items include a red black dress with syringes sprinkled across it, giving off the impression that they're falling. The syringes in BioShock were oftentimes used by the Little Sisters to extract fluids from victims. There's actually two different kinds of those dresses, one with a more nightlife look to it as if it might be worn at a cocktail party, and the other with a more Halloween-party look to it.
There are other cosplay outfits as well, including one for the Big Sister from BioShock 2. It's form-fitting, two piece suit for those who want to lightly cosplay as the dangerous enemy from the first-person shooter.
Another cosplay piece takes on BioShock's art deco inspirations, with a cream and red sundress called the "Red Little Sister". It looks like it comes right out of the 1960s.
But it's not all about cosplaying as some of the iconic characters from Irrational Games' first-person shooter series. There are a few standard clothing items as well, like a basic t-shirt with a Big Sister on it, or a shirt called the "Masquerade" that features a bunny mask that one of the Splicers wore in the first two BioShock games. There's also a few casual articles of clothing that you might wear out anywhere, like the Shock Jock t-shirt or Vigor Maxi skirt.
There's quite a bit of variety on the store, but the prices are extremely high. The Vita Chamber swimsuit will run you close to $100, where as a "Would You Kindly" sundress would cost you $89 in Aussie dollars.
If you don't mind the prices then it's something worth checking out for fans of the BioShock series. Unfortunately I didn't see much of anything related to BioShock: Infinite on there, but maybe those items will arrive later. You can check out the full collection over on the BioShock section of the Living Dead website.
Staff Writer at CinemaBlend.
Your Daily Blend of Entertainment News
Thank you for signing up to CinemaBlend. You will receive a verification email shortly.
There was a problem. Please refresh the page and try again.