Logitech G910 Orion Spark Mechanical Keyboard Announced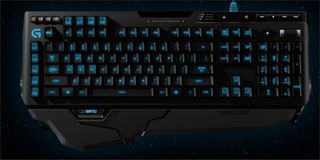 This November there will be a ton of new games and gear made available in time for the holiday shopping season. To prep for the big end-of-year buying rush, Logitech announced that they have a new keyboard peripheral for hardcore gamers called the Orion Spark. Featuring mechanical keys, programmable buttons and specially designed app software, the Orion is designed for gamers who are serious about how they lay the smackdown in single and multiplayer games.
Sporting the brand new trademark Romer-G mechanical switches and response key actuation that's 25% faster than other boards of a similar design, the Spark is designed for both durability and those who love a bit of an aesthetic touch to their gadgets.
Vincent Tucker, director of Logitech gaming commented about the new gaming board, saying...
The G910 Orion Spark sports RGB illumination that allows for brightly-lit gaming even during the darkest of nights and the most pitch black of playing conditions.
The Orion sports a durability span of 70 million keystrokes. It's supposedly designed to last 40% longer than the average gaming board. I can't say whether or not this is true because, it's not like I've had to replace keyboards all that often. Mice? They come and go quick. Keyboards? Not so much. Then again, Logitech is in good with the eSports arena and I imagine the kind of harsh conditions those pro-players put their peripherals through would have companies looking to focus on increasing longevity and durability. I mean, how embarrassing would it be if a keyboard died, had ghosting issues or the illumination died during the middle of an intense match? Very embarrassing.
Speaking of eSports, Andy Dinh, owner of Team Solomid commented about the Spark, saying...
The G910 also comes with nine programmable buttons that can be support up to 27 programmable commands across multiple profiles. The Orion Spark also features Arx Control integration, an SDK toolkit that enables information to be shared across multiple supported mobile devices so you can track performance stats, media controls and "in-game intelligence".
The G910 Orion Spark is set to go live in North America and Europe beginning this November. You'll be able to get your hands on the Spark for about $179.99. That's a heck of a lot more expensive than the GAMDIAS Ares combo, which contains a mouse and keyboard for only $49.99. You can learn more about the new gaming keyboard by paying a visit to the official Logitech website (opens in new tab).
Staff Writer at CinemaBlend.
Your Daily Blend of Entertainment News
Thank you for signing up to CinemaBlend. You will receive a verification email shortly.
There was a problem. Please refresh the page and try again.