Madden: The Movie Is Just As Amazing As You'd Expect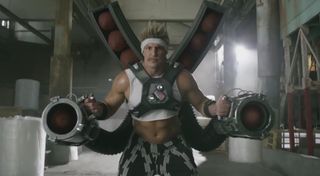 Electronic Arts has gone over and beyond with the promotion for Madden NFL 16. It's not just a standard two minute trailer detailing whatever new features they added to the game or whatever old feature they removed, they decided to go the Kung Fury route in promoting the game and it works... it really, really works.
Check out the trailer for Madden NFL 16 below from EA's YouTube channel, titled Madden: The Movie.
I see EA and Microsoft are still hanging tight there.
The video itself follows Dave Franco's character as he attempts to get revenge for his girlfriend (played by former WWE wrestler AJ Lee) being stolen by a guy who appears to be imitating Peter Stormare.
Franco is accompanied by a ridiculous team made up of Christopher Mintz-Plasse, Julio Jones, Colin Kaepernick, Antonio Brown, Rex Ryan and Rob Gronkowski in one of the most ridiculous getups I've ever seen. However, I do have to admit that Gronkowski plays the part well and even looks stupidly legit using those devastator football cannons.
And yes, footballs in the world of Madden: The Movie are deadly, as evidenced when Ryan bites the pigskin during the bad guy ambush.
The whole theme of the trailer is just so over the top that it's hard to quantify its zaniness within the confines of a few sentences.
The reaction to the trailer has mostly been positive, but also very negative toward Madden NFL 16. A lot of gamers are miffed that the trailer is cool, funny and a breath of fresh air, which is almost the opposite of the game series.
There are a lot of comments sharing the sentiment that Electronic Arts put more work, effort and passion into the mock trailer than they did the game.
It's debatable about what's improved and what's not in any Madden NFL game. For instance, in this year's iteration there are a number of smaller iterations and changes made in the way the game handles calculations and outcomes, as opposed to anything major like dynamically procedural animations or soft-body physics. Gaming Blend has a list of the five major improvements for this year's outing of Madden NFL but it's nothing so big that it would make you change your mind about the series if you didn't already like it.
While the trailer above has little to do with Madden the game, and it does even less to convince those who don't play the game why they should play the game, it is one of the most entertaining trailers of the year. It's also hard to deny the similarities and influences from the Kung Fury short film.
As for Madden NFL 16... the game is due for release on August 25th next week for the seventh gen consoles and the eighth gen consoles.
Staff Writer at CinemaBlend.