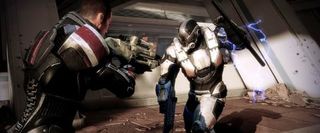 Origin, EA's rebranded PC game store, will be selling a digital deluxe edition of upcoming action RPG Mass Effect 3. The bundle offers a number of downloadable bonuses, including an exclusive companion.
The $79.99 N7 Digital Deluxe Edition will net you the following extras:
70-page digital art book featuring hundreds of unique and gorgeous illustrations from the BioWare development team.
Limited edition digital Mass Effect comic by Dark Horse Comics, complete with unique cover artwork.
Exclusive 4x6 lithographic digital print featuring a one-of-a-kind piece of artwork.
N7 Arsenal Pack – Bring the firepower with the N7 Sniper Rifle, Shotgun, SMG, and Pistol.
Normandy Robotic Dog companion
Squadmate Alternate Outfit Pack – New appearances for your favorite squad members.
N7 Hoodie – For Commander Shepard's casual days on board the Normandy.
Relive all the greatest moments of Mass Effect 3 with the digital soundtrack.
Display your initiation in the N7 ranks with a collection of forum and social badges, avatars, and perks.
Many of the same extras are also included in the N7 Collector's Edition. PC gamers will just have to decide whether they'd rather have a digital or boxed copy of the game. Xbox 360 and PS3 owners will have to go with the CE.
According to the Digital Deluxe Edition's product page, this is an exclusive bundle for Origin. It looks like EA is going to be using exclusives as a way to make their store stand out from the pack and gain ground on more established competitors like Steam or Direct2Drive. Makes sense. It's what Valve did to help build up their own service, after all.
Your Daily Blend of Entertainment News
Staff Writer at CinemaBlend.