Mass Effect 3 N7 Collector's Edition Includes Robotic Dog, Exclusive Weapons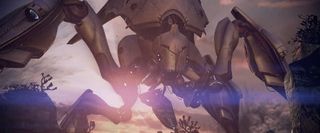 BioWare is preparing a special edition of Mass Effect 3 for release next year. The $79.99 N7 Collector's Edition includes a number of extras both real and virtual.
Here's what the CE, available now for pre-order, contains:
Premium metal case featuring commemorative artwork of both male and female versions of Commander Shepard.
70-page hardbound art book featuring hundreds of unique and gorgeous illustrations from the BioWare development team.
Limited edition Mass Effect comic by Dark Horse Comics, complete with unique cover artwork.
Join the ranks of the N7 with the premium fabric N7 patch.
Exclusive 4x6 lithographic print featuring a one-of-a-kind piece of artwork.
N7 Arsenal Pack – Bring the firepower with the N7 Sniper Rifle, Shotgun, SMG, and Pistol.
Robotic Dog – A faithful sidekick to keep you company on board the Normandy.
Squadmate Alternate Outfit Pack – New appearances for squad members Ashley, Kaiden, James and Liara.
N7 Hoodie – For Commander Shepard's casual days on board the Normandy.
Relive all the greatest moments of Mass Effect 3 with the digital soundtrack.
Xbox LIVE Normandy prop for your Avatar. (Available on Xbox 360 version only.)
Display your initiation in the N7 ranks with a collection of forum and social badges, avatars, and perks.
The CE will be available alongside the standard edition on March 6th.
Image 1 of 1
Staff Writer at CinemaBlend.
Your Daily Blend of Entertainment News
Thank you for signing up to CinemaBlend. You will receive a verification email shortly.
There was a problem. Please refresh the page and try again.