Middle-Earth: Shadow Of Mordor Gets New Release Date With Story Trailer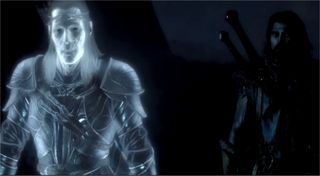 Monolith Productions and Warner Bros. Interactive Entertainment have announced today that their action-RPG for the old-school consoles the new-school consoles and PC has received a new release date – one week earlier than planned – of September 30th, along with getting an official story trailer.
First up, the game's release date has been modified from its original October 7th designation. Instead, the game is now being released a week earlier on September 30th for the PlayStation 3, PlayStation 4, Xbox 360 and Xbox One. The game will be just a few days late on PC for digital distribution outlets; PC gamers won't be able to get their hands on the game until October 2nd. A minor delay but slightly worth it.
According to Polygon, Warner Bros. Entertainment released a statement as to why they decided to move up the release... it was based on "hearing fans' excitement."
Alternatively, a lot of people have come to the assumption that it was to avoid all the other huge games coming out throughout the middle and end of October from highly anticipated brands and companies, such as Assassin's Creed Unity or Bayonetta 2 or Driveclub.
Moving Shadow of Mordor by a week gives the game an extra week of breathing room from the crowded space in October and November, which are expected to be dominated by Ubisoft, Activision, Microsoft and Sony. That's not to mention that a game like Dragon Age: Inquisition has a good chance to completely blow this title out of the water.
Additionally, the trailer above isn't quite so straightforward... especially for anyone who hasn't been keeping up to date with the game. The game follows the characters Talion and Wraith as they seek to uncover the past and unravel the dark shadow the looms over Mordor.
As mentioned in the press release (and as showcased in the trailer above) regarding both Talion and Wraith...
The characters seeking redemption will have to carry out a lot of questionable tasks and do battle with many familiar and unfamiliar faces from the Lord of the Rings lore. The graphics and character performances make up for a huge part of the immersion factors and I'm sure that's what Warner Bros and Monolith Productions are betting on to win most gamers over... it seems to be the one thing that many game journalists enjoyed about the game.
If you're looking for a role-playing game with customization for the characters, attributes and abilities, as well as plenty of moments to determine the outcome of the game's world with distinct choices that can be made via the "Nemesis system", then Shadow of Mordor might be that game.
Staff Writer at CinemaBlend.
Your Daily Blend of Entertainment News
Thank you for signing up to CinemaBlend. You will receive a verification email shortly.
There was a problem. Please refresh the page and try again.