More Halo Toys Are On The Way, Get The Details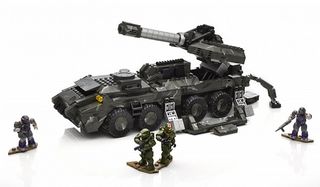 The folks over at 343 Industries today announced a master licensing agreement with Mattel, which translates to lots and lots of new Halo toys coming down the pipeline.
As big as the Halo franchise has grown and as perfectly suited to younger gamers as it is, there have been a surprisingly small number of toys flooding the market over the years. Sure, there's an action figure here and there or the occasional Lego playset, but you'd think that space marines, rad vehicles and aliens with cool glowing swords would be the stuff of toy makers' dreams.
Well, it looks like the past will be rectified soon as 343 Industries and Mattel have signed a deal to ramp up toy production starting this year. This news comes from Xbox Wire, which made the announcement official with a pretty detailed press release packed with details.
According to the announcement, Halo toys have always been geared at making the Halo franchise fun and accessible for hardcore fans and newcomers to the series alike. According to Microsoft Corporate VP and Head of 343 Industries Bonnie Ross, the success of the Halo MEGA Bloks line is what led to this exclusive partnership. As an added bonus, this partnership will help expand the Halo line of products worldwide, as well as create a unification in the designs, development and creative vision of the toys.
According to SVP of Design and Marketing for Toy Box and Mattel, this year's toys will include the likes of more MEGA Bloks lines, blasters, action figures, radio controlled vehicles and more.
If you happen to be on hand at the New York Toy Fair over the weekend, the full line of products will be available for viewing at Mattel's Collector's Night on Sunday. Or, you could head over to that Xbox wire post and take a gander at a bunch of the toys and their prices.
Toys tied to video games certainly seem to be making headlines lately, and we're guessing that New York Toy Fair is partially to blame. Along with this latest Halo lineup, we recently reported on a new lineup of action figures from McFarlane Toys that revolves around the Titanfall game series. Unlike that other recent partnership, though, it doesn't appear that the Mattel partnership has led to anyone leaking a possible new Halo game we haven't heard about yet.
So tell us, readers, are you into these game tie-in toys? Is there a particular game you collect for or do you just grab some action figures that are particularly well built? Are you an Amiibo fiend? Let us know in the comments below.
Staff Writer for CinemaBlend.