Ms. Pac-Man Pink Ribbon Campaign Battles Breast Cancer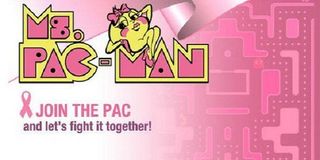 One of the First Ladies of video games is fighting for a good cause as Bandai Namco Games America Inc. teams up with the National Breast Cancer Foundation to kick off a Ms. Pac-Man Pink Ribbon Campaign, raising money for breast cancer awareness and research.
For the campaign, players will have the ability to grab some new in-game content for their iOS and Android Ms. Pac-Man/Pac-Man games with funds going to the NBCF to "help women and inspire hope to those affected by breast cancer through early detection, education and support services," reads the press release from game publisher Bandai Namco. A similar campaign was hosted quite a while back with the Pink Knight being added to Castle Crashers.
According to Bandai Namco head of mobile, James Kucera, the publisher was excited to get to join in with such a worthy cause.
"Awareness and early diagnosis are critical in the fight against breast cancer," Kucera said. "We are proud to lend our voice to the fight with Ms. Pac-Man and Bandai Namco's Pink Ribbon Campaign."
The Campaign centers on a brand new maze for various Pac games, which will be available for a buck throughout October. All proceeds from these purchases will then go directly to the NBCF. As for what players can expect out of the level? Plenty of pink, of course, including new interface and artwork boasting a pink ribbon theme. There will even be an option to share your best scores through social media outlets like Facebook and Twitter, which will provide info for your friends to join in on the cause, too.
"While vieo games often bring amusement and joy to our lives, this is a chance to bring hope as well," said Senior Producer Ben Acevedo. "Breast Cancer has directly affected my immediate family and it's a fantastic opportunity for gamers and the industry to get involved. While the mazes we are offering in October are fun, the real challenge is to raise awareness and get players, producers, artists, programmers across the mobile industry to join us and 'Join the Pac.'"
For those of you gaming on iOS, this promotion is available on Pac-Man/Ms. Pac-Man, Pac-Man Lite/Ms. Pac-Man Lite and Ms. Pac-Man for iPad and iPad Lite. Android games include Ms. Pac-Man and Pac-Man + Tournaments.
"We are very excited about our new partnership with Bandai Namco and the Ms. Pac-Man Pink Ribbon Campaign," said NBCF Founder and CEO, Janelle Hail. "By encouraging their gamers to Join the Pac, we can reach more women than ever with our message of hope. The funds they raise will allow us to provide early detection services for women in need in all 50 states."
To learn more about the National Breast Cancer Foundation, visit the organization's official website. Otherwise, you can log on to your iOS or android device, boot up or purchase one of the applicable games, and supply one American dollar to support the cause in exchange for a Pink Ribbon map.
Your Daily Blend of Entertainment News
Staff Writer for CinemaBlend.