OUYA Launches At Retail This June For $99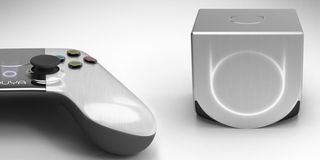 The Android-based home console called OUYA has become available to Kickstarter backers who pledged money to make the console a reality. However, the system is still not widely available on retailer shelves, but that all changes come June 4th, when the OUYA home console launches at retailers nationwide.
Julie Uhrman, CEO of OUYA commented in the press release about the new game system, saying...
OUYA will not only launch in the U.S. this June, but it will also appear on store shelves all across Canada and the United Kingdom, giving gamers on a budget access to the cost-effective console.
There are currently more than 8,000 developers signed on to produce content for the console via the OUYA store, ranging from small indie studios to well known outlets like Tripwire Interactive, the makers of Killing Floor and Red Orchestra. There's also Square Enix, Double Fine Productions and Kim Swift's Airtight Games all providing content for the $99 living room solution for digital interactive entertainment. One of the more interesting games coming out for the system is a Pacific Rim type mech title that looks very promising.
If you aren't a Kickstarter backer then you'll have to wait until June to get your hands on the console. You can learn more about the games planned for the console's launch line-up or find out more about the Android-based entertainment device by visiting the Official Website.
Staff Writer at CinemaBlend.
Your Daily Blend of Entertainment News
Thank you for signing up to CinemaBlend. You will receive a verification email shortly.
There was a problem. Please refresh the page and try again.