Play Ultra Street Fighter 4 For Free Right Now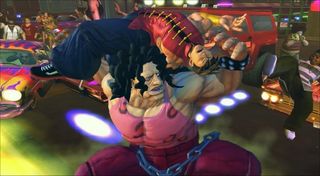 If you want to get in on the free weekend for Ultra Street Fighter IV on PC, now would be the perfect time. Capcom's one-on-one fighting game was recently announced as having a free weekenbed over on Steam and this in addition to the game being 50% off the regular purchase price.
The announcement went live over on the store page and it clearly points out that gamers will have up until Sunday 1pm PST, May 17th.
The game is available right now for $14.99 at the 50% off mark, or if you already have the game you can upgrade Ultra Street Fighter IV's upgrade for only $7.49.
The thing that kind of throws me if the DLC. The Ultra Street Fighter IV upgrade is listed as "DLC" but does it include any of the DLC or is that still separate? And does the upgrade include the Super Street Fighter IV Arcade Edition DLC or do you still have to pay for that separately? The description is a little confusing because it states...
I've always had issues with purchasing these new upgrade packs because I made the mistake in the past of buying a game, buying some DLC and then realizing that the game has like 20 pieces of DLC and when the GOTY edition arrives I purchase that and find that I double up on DLC I already purchased separately. It gets to be a mess at times.
In the case of Ultra Street Fighter IV the game has a total of $131.21 worth of DLC spanning across USFIV and Super Street Fighter IV. That's a heck of a lot of DLC.
If you're interested in just getting all the packs together you can do so by purchasing the complete vacation pack that contains nine pieces of costume packs for $19.99. Additionally, the Ultra Street Fighter IV Wild Costume pack is also available for $19.99 and you get 9 pieces of DLC in that bundle.
It's kind of sad but I've purchased so many Street Fighter games that I'm not even sure if I already own Ultra Street Fighter IV. Capcom has released so many games over the past couple of years that it's tough to keep up.
For gamers who are either new to the Street Fighter series or if you've been a long time fan who just didn't yourself all too keen on picking up a copy of the latest game, having the option of playing the game for free over the weekend is a great way to get your fill of the game and a way to soundly judge if the game is worth permanently adding to your library.
If you already know that Ultra Street Fighter IV is the game for you then you can go on ahead and pick up a digital copy right now from the Steam store.
Your Daily Blend of Entertainment News
Staff Writer at CinemaBlend.