PlayStation Network Apparently Down, Get The Details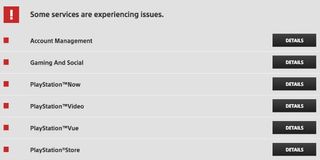 The internet has been buzzing today with the news that the PlayStation Network has been down today with several errors affecting accounts, gaming and social, PS Now, PS Vue, PS Video, PS Store and PS music. In the wake of DDoS attacks on Steam over Christmas, you can imagine PlayStation users are perplexed and annoyed.
Sony has not directly given a statement on the issue, but has acknowledged there is a problem. They did finally issue a message on their Support page,
So it's safe to say that whatever is going on, Sony has located the error and is working on fixing it. According to Forbes, at around 5 p.m. some users have reported being able to log into the PlayStation network, but there has been no official change in the error notifications on the PlayStation status websitestatus website and no official word from Sony.
Two years ago around Christmas in 2014, both PlayStation Network and Xbox were hit with denial of service attacks. According to The Guardian, over 160 million gamers could've been affected on Christmas Eve when the networks went down. And so gamers were left with meaningless bricks for a duration of their holiday season; with an attack like this, it can prevent players from using even physical copies of games because of the online authentication that is required.
The internet, on the other hand, has been having a field day with the matter. One Twitter user made a hilarious reference to the violence and frustrations of The Hunger Games.
Another user sarcastically commented on the high frequencies of PlayStation Network outages.
Other users were angry with the mysterious outage.
Sony has yet to give any specific detail on the outage and we'll continue to update as more information is made available.
Your Daily Blend of Entertainment News