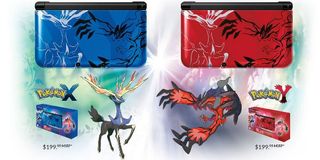 This weekend Pokemon fans in North America can start preparing themselves for Pokemon X and Y's launch. Nintendo has released two special-edition 3DS XL models inspired by the two upcoming role-playing games.
You have your choice of either red or black. They're emblazoned with drawings of Yveltal and Xerneas, the new Legendary Pokemon. Like other 3DS XL bundles, they come with an AC adapter, stylus, SD Card and AR Cards. They're priced at the usual $199.99.
It doesn't actually come with a copy of Pokemon X and Y, though. Those games won't be out in stores until October 12th in North America and the rest of the world.
Pokemon X and Y bring players to the Kalos Region, inspired by France. The player character is a young teenager from Vaniville Town who sets out to become a Pokemon Master. They'll have to earn eight Gym Badges throughout the region and then challenge the most elite members of the Pokemon League.
Players will begin their journey with one of three new starter Pokemon: Chespin, Fennekin, and Froakie. They can then build up their collection with both old and new Pokemon. The new additions include a Fairy type that's strong against Dragon type Pokemon. Certain Pokemon can undergo Mega Evolutions in order to get a temporary boost in combat. Trainers can permanently strengthen their Pokemon with new Super Training regimens.
It's a bit surprising that Nintendo wouldn't just go the extra step and bundle the game with the handhelds. I guess releasing the 3DS XL a bit earlier gives Nintendo a big presence in stores prior to X and Y's launch. The boxes of special edition 3DS XL's act as little billboards for the game.
The other reason that Nintendo didn't bundle Pokemon X and Y with the 3DS XL is that the games are already launching alongside a handheld: the 2DS. The 2DS is a new tablet-shaped handheld that can play 3DS games but doesn't feature stereoscopic 3D. Given its lower price point ($130), Nintendo seems to think it has a better chance of winning over gamers who want a game like X and Y but have resisted the urge until now to upgrade to a new handheld. The limited edition 3DS XL models are intended more for the hardcore Pokemon fanbase.
Image 1 of 2
Your Daily Blend of Entertainment News
Staff Writer at CinemaBlend.