Razer Blade Pro Gaming Laptop Sports Nvidia's 765M GPU, 17-Inch Screen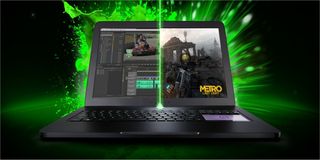 Razer has unleashed new information on their upcoming Razer Blade Pro, a high-end 17-inch laptop powered by Nvidia's 765M GPU running on Intel's quad core i7 and it's currently available for pre-order.
Navin Shenoy, vice president and general manager of Intel's Mobile Client Platforms commented on the new gaming laptop, saying...
With today's requirement in gaming for hardware that can handle demanding graphics processing, speed, efficiency, portability and something that doesn't melt on you while you're using it (I'm looking at you Nvidia 7xxx mobile series), Razer is aiming to fill that void with the Razer Blade Pro.
The only problem is that this gaming laptop aimed to make mobile gaming a high-end affair is a bit high-end on the price. I'm afraid to lay out the numbers because some of you with weak hearts might need medical attention but I'll throw down the numbers anyway...you ready? Okay then. The Razer Blade Pro gaming laptop carries a price tag of $2,499.99.
Better get that inhaler.
I'm not really sure who this is going to target given that other more cost effective mobile solutions are also available out there, including the upcoming Wikipad 7-inch gaming tablet which is available for only $250 or Razer's own Fiona, which seems like a good alternative...that's not even mentinoing the Nvidia Project Shield, while expensive still seems like a bit more of the portable gaming solution you might be looking for.
Anyway, if $2,499.99 is a drop in the bucket for you, then you might consider sending some of that our way. But, if it's cash you can spend on a calculated purchase like the Razer Blade Pro, feel free to learn more or pre-order over on the official website.
Staff Writer at CinemaBlend.
Your Daily Blend of Entertainment News
Thank you for signing up to CinemaBlend. You will receive a verification email shortly.
There was a problem. Please refresh the page and try again.