Rock Band 4's Full Song List Announced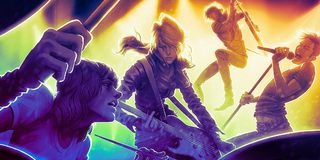 Harmonix announced the last batch of Rock Band 4's soundtrack today. Here's the full list of songs you'll be able to perform in the song at launch:
.38 Special - Caught Up In You
4 Non Blondes - What's Up?
Aerosmith - Toys in the Attic
Arctic Monkeys - Arabella
Avenged Sevenfold - Hail to the King
Benjamin Booker - Violent Shiver
The Black Keys - Fever
Brad Paisley ft. Keith Urban - Start A Band
Brandi Carlile - Mainstream Kid
The Both - Milwaukee
Cake - Short Skirt/Long Jacket
The Cure - Friday I'm In Love
Dark Wheels - V-Bomb
Disturbed - Prayer
Dream Theater - Metropolis - Part 1 - "The Miracle And The Sleeper"
Duck & Cover - Knock 'Em Down
Eddie Japan - Albert
Elvis Presley - Suspicious Minds
Fall Out Boy - Centuries
Fleetwood Mac - You Make Loving Fun
Foo Fighters - The Feast and the Famine
Gary Clark Jr. - Ain't Messin 'Round
Gin Blossoms - Follow You Down
Grouplove - Tongue Tied
HalestormI - Miss The Misery
Heart - Kick It Out
Heaven's Basement - Am Electric
Imagine Dragons - Bet My Life
Jack White - Lazaretto
Jeff Allen - Recession
Johnny Blazes and the Pretty Boys - Cold Clear Light
Judas Priest - Halls Of Valhalla
The Killers - Somebody Told Me
Lightning Bolt - Dream Genie
Little Big Town - Little White Church
Live - All Over You
Lucius - Turn It Around
Lynyrd Skynyrd - That Smell
Mark Ronson ft. Bruno Mars - Uptown Funk
The Mighty Mighty Bosstones - The Impression That I Get
The Outfield - Your Love
Ozzy Osbourne - Miracle Man
Tijuana Sweetheart - Pistol Whipped
Paramore - Still Into You
The Protomen - Light Up The Night
Queens of the Stone Age - My God Is The Sun
Rick Derringer - Rock and Roll, Hoochie Koo
Rush - A Passage To Bangkok
Scandal - The Warrior
Scorpions - No One Like You
Slydigs - Light The Fuse
Soul Remnants - Dead Black (Heart of Ice)
Soundgarden - Superunknown
Spin Doctors - Little Miss Can't Be Wrong
St. Vincent - Birth In Reverse
System of a Down - Spiders
Van Halen - Panama
Van Morrison - Brown Eyed Girl
White Denim - At Night In Dreams
The Who - The Seeker
Retailers are also giving out 30 bonus songs to pre-order customers. Select stores also have a few exclusive songs to offer in addition. For example, PlayStation Plus members can get the following tracks by reserving a copy through PlayStation Store:
"Divide" - All That Remains
"Run For Cover" - Blitz Kids
"Throne" - Bring Me the Horizon
"Mona Lisa" - Dead Sara
"The Reflex" - Duran Duran
"Move Over" - Janis Joplin
"Would You Still Be There" - Of Mice & Men
"Sugar You" - Oh Honey
"Cowboys from Hell" (Live from Monsters in Moscow Festival) - Pantera
"Summertime Boy" - Seasick Steve
This is only a small fraction of the songs available for Rock Band 4, though. The game's website notes you can purchase over 1,500 songs through the Rock Band Music Store. Players will also be able to use the DLC songs they've purchased for past Rock Band games, or exported from game discs. The catch is that you'll have to pay to import these songs, though, and you can only do so within the same console family (PS3 to PS4 or Xbox 360 to Xbox One).
Rock Band 4 lets players perform these tracks with a microphone, guitar or drums. The game also introduces a Freestyle Guitar Solo mode to let players innovate. A new career mode lets players progress from a small town band to international superstars. The game will debut on October 6th for PS4 and Xbox One.
Staff Writer at CinemaBlend.