The Sims 4 Get Together Arrives On PC And Mac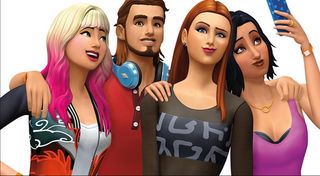 Maxis' The Sims has always been on the receiving end of some brand new expansion to evolve and further add immersion to the life simulator. The newest expansion pack that has released is called The Sims 4: Get Together, and it allows players to play as a group of Sims in a new European-inspired world known as Windenburg.
The press release recently went up on Business Wire where it was revealed that the expansion is currently available and allows for players to create their own clubs and bring together various Sims to have fun at various locations. Lyndsay Pearson, Senior Producer, The Sims 4 commented about the new expansion pack, stating...
The Sims 4's new expansion centers around idyllic locations based on the European countryside and modern hotspots for people to get together. Some of these new locations include cafes where Sims can go grab a cup of or hang out and gulp down an espresso. As usual, there are dance clubs scattered about in the Get Together expansion for The Sims 4 so you and your friends can get your groove on.
Beyond the basics of what's mentioned in the press release any further details are seemingly withheld. You'll likely have to scour through YouTube to find out more about the details or visit the official website.
So far The Sims 4 has steadily moved along since its original release last year during September. They've only released two full expansion packs so far and that is the Get Together and Get To Work. Both expansions are $39.99. It's actually quite shocking that there aren't more expansion packs for the game. However, that's due to how EA and Maxis have changed around their tactics for releasing new content for The Sims 4.
While The Sims 3 had tons and tons of expansion packs, The Sims 4 substitutes them for what's called Stuff Packs and Game Packs. Both of these offer gamers more content at slightly lower prices than the full expansions.
Game Packs are only available for $19.99 and feature things like the outdoor area or the spa retreat. They're similar to the expansion packs but not quite as content rich. Players can explore new areas and take their Sims to new locations, but they're smaller and less interactive than the full-blown expansions.
The Stuff Packs are even smaller yet; $9.99 packs that offer players extra items or clothing to expand the library of The Sims 4's content.
Of course, with the The Sims 4: Get Together expansion it's supposedly enough new content to warrant a higher price tag. You can learn more about all of the available expansion packs, Stuff Packs and the Game Packs by paying a kind visit to the official store page.
Your Daily Blend of Entertainment News
Staff Writer at CinemaBlend.