Steam Halloween Sale 2015 Offers Tons Of Cheap Games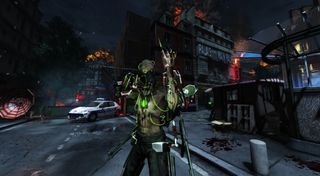 Steam is holding a Halloween sale over the weekend, from October 30th all the way up until November 2nd. There are a lot of familiar faces in the crowd, including some of the biggest AAA games that some gamers may have been desperately waiting for to go on sale, including Rockstar Games' Grand Theft Auto V.
The sale is no light weight. Valve has worked with publishers to discount up to 1877 games over on the Halloween sales page.
Some of these games include new titles, old titles and fan-favorites alike, such as Grand Theft Auto V, which recently had its own Halloween special event announced that kicks off this weekend and lasts up until the middle of November. If you were hoping for a really big discount, you need to lower those expectations because GTA V is only discounted by 33% off the normal $59.99 price tag. That means you can pick up a copy of the game from Steam over this Halloween weekend for $40.19.
Valve's own Left 4 Dead series is also discounted with the first game being available for up to 80% off the normal price, so you can grab it for only $3.99. EA and Visceral Games' Dead Space series is also available at massively discounted prices, such as 75% off the normal price so you can pick up the first two games for only $4.99.
Classics like the Resident Evil series are also on the list, with Resident Evil 4 and Resident Evil 5 discounted by 66% but Resident Evil 6 – one of the more recent games in the series – carries a 75% of discount.
Other expected games to appear on the sale, such as Killing Floor 2 make an appearance but it shares a similar fate as GTA V, only being marked down by 33% since it's still in Early Access. The BioShock games are deeply discounted, with the first two games being made available for 80% off the normal purchase price and BioShock Infinite being made available for 75% off the normal purchase price, so you can grab it for only $7.49.
Frictional Games' science fiction head-trip that recently released for PC and home consoles, Soma, is also on the list but it's only discounted by 15% off the normal purchase price.
Games like Dying Light and the Binding of Isaac help flesh out the list, as one would expect that they would. And given that ARK: Survival Evolved recently received its Halloween update – an update that includes zombie dinosaurs, I might add – it's sitting pretty near the top of the list at 33% off. The game is still in Early Access so expecting a deep discount would be unlikely at this point.
Now I know that Cities: Skylines is a popular game and is selling like crazy, but I don't really see how it fits into the Halloween theme? I know the After Dark DLC expansion recently launched but even still it just seems so misplaced.
Anyway, you can check out the full list of games discounted during the Steam Halloweeen sale by visiting the sales page.
Staff Writer at CinemaBlend.
Your Daily Blend of Entertainment News
Thank you for signing up to CinemaBlend. You will receive a verification email shortly.
There was a problem. Please refresh the page and try again.