Transformers: Fall Of Cybertron Studio Making Avengers Game?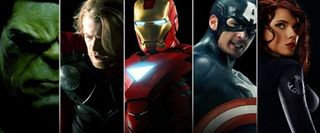 Transformers: Fall of Cybertron developer High Moon Studios has another high-profile licensed game in the works. During Comic Con, they're set to announce a project based on one of Marvel's properties.
The Comic Con panel entitled "Marvel Video Games" will feature information on Gazillion Entertainment's MMO Marvel Heroes as well as Ubisoft's Avengers: Battle for Earth. The description of the panel doesn't detail High Moon Studio's Marvel game. All that they say is that it's "sure to be a hit."
It seems possible that High Moon Studio's game is based on the Avengers. Ubisoft is making Battle for Earth but that's only going to be released for Xbox 360 Kinect and Wii U. Considering the enormous financial success of the Avengers film, I would think that Marvel would also license a "hardcore" multiplatform game based on the franchise.
It's surprising that they didn't release a Avengers game alongside the film. It's for the best, though. Forcing a development team to conform to the release schedule for a film often results in rushed, forgettable games. Extra time doesn't always result in a quality game but the odds are better.
High Moon Studios seems like a smart choice for the project, regardless of what Marvel license it's based on. They proved with Transformers: War for Cybertron that they know how to take a beloved franchise and put an entertaining twist on it. Fall of Cybertron looks even more promising.
The "Marvel Video Games" panel will be held on July 14th and run from 1:45 to 2:45. Considering it's only a one-hour panel and at least two other games will be discussed during the presentation, we probably won't hear much about High Moon Studio's game beyond its title.
Your Daily Blend of Entertainment News
Staff Writer at CinemaBlend.
Your Daily Blend of Entertainment News
Thank you for signing up to CinemaBlend. You will receive a verification email shortly.
There was a problem. Please refresh the page and try again.