Tropico 5: Complete Collection Launch Date Announced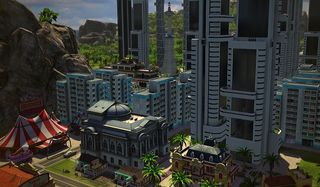 The beefed up Tropico 5 – Complete Edition finally has a launch date, and the game is coming quite a bit sooner than you may have expected.
In just a couple of weeks, gamers will be able to jump into the island paradise of Tropico 5 – Complete Edition, with a Steam launch of January 29, followed by a PC retail release the following week on February 2.
In the game, players take on the role of El Presidente, a leader who gains control of the island wonderland during colonial times and must help guide it through centuries of progress and evolution. Tropico is a resource management, simulation game similar to SimCity, but with the competitive edges of Civilization.
According to the launch date announcement, players will need to weigh many tough decisions while deciding what is best for their growing nation.
As you might have guessed from the words "Complete Collection" in the game's title, this latest version of Tropico 5 boasts all of the trimmings, including all of the DLC that has been launched since the game's initial release. Both expansions, Espionage and Waterborne, will be available right out of the box, along with all of the DLC content packs such as Surf's Up, Gone Green and Supervillain, just to name a few.
When you're not busy making all-important decisions, you'll be able to explore your island to find new goods and establish new outposts. Once you've got something worth value, you'll be able to take advantage of advanced trade systems and trade fleets, too.
Set to launch on Steam and on store shelves in just a few weeks, Tropico 5 – Complete Collection will set you back $39.99. For an early look at the game, you can check out the Amazon listing (opens in new tab), too. Don't forget that the online retailer now has a few extra perks for Prime users who pre-order or buy a game early, too.
Staff Writer for CinemaBlend.
Your Daily Blend of Entertainment News
Thank you for signing up to CinemaBlend. You will receive a verification email shortly.
There was a problem. Please refresh the page and try again.