New Umbrella Corps Trailer Shows Off Nots To Classic Resident Evil Locations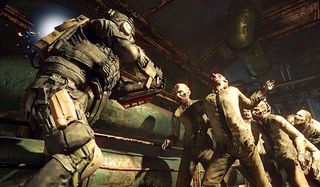 When Umbrella Corps finally arrives, players will be given the opportunity to team up with their friends and go on a zombie-slaying rampage across the globe. And based on the game's most recent trailer, it looks like players will be returning to some familiar locations, too.
When a new game in a series comes out, fans are usually on the lookout for the fresh hotness. Still, there's always a nostalgic itching at the back of the brain that argues, "Yeah, these new locations are great and all, but wouldn't it be cool if we got to run around in Raccoon City again, too?" That's why fans are always so excited to see old-school maps make it into the latest version of Call of Duty or Battlefield. New stomping grounds are great, but sometimes we yearn to return to favorite old haunts.
It looks like the team behind Umbrella Corps understands that concept very well. The game itself is pretty different when compared to most other entries in the Resident Evil series. But amidst all of these new jams, they get that we also want to play the hits from time to time.
That's why folks are so excited to see that, in the new trailer for Umbrella Corps, it looks like that's exactly what we'll be doing. Capcom knows what they're doing with this particular trailer, flat-out titling it "Umbrella Corps returns to Raccoon City and the RPD building."
Straight from the opening shot, fans of Resident Evil 2 are likely squealing for joy as an all-too-familiar shot of ravaged city streets swings past. We also get a look at the ridiculously large police station at the heart of the city, followed by the message, "Raccoon City is about to become a warzone."
And that is, of course, when the gameplay comes in. We hear a voice saying that your team is on the lookout for a very important sample. To get to it, you're going to have to blast your way through a small army of the undead from the third- and first-person perspective, as well as a rival team.
We get to see some shotgunning, some axe murdering and even a bit of firing from cover, all showing off the different types of gameplay fans can expect out of Umbrella Corps.
The trailer continues by filling viewers in on the types of game modes that will be available. All are three-on-three and boast eight ways to play across the multi-mission scenario.
First up is Respawn Match, which lets players jump back into the fray after meeting an untimely demise. There's also Target Hunter, Collector, Domination, DNA Hunter, Collar War, Protector and a single player version of Target Hunter. Also available are single player trials called The Experiment and a mode where every player gets just one life to live.
That's all capped off by a montage of multiplayer action that pulls the whole shebang together.
Look for Umbrella Corps to drop on June 21 for PlayStation 4 and Steam.
Staff Writer for CinemaBlend.