Watch The Red Bull 2014 North American Battle Grounds Right Here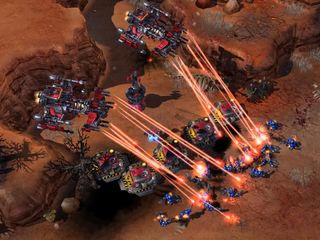 Red Bull is back for another round of eSports Battle Grounds, featuring Blizzard's StarCraft II, as they head toward the great Battle Grounds bash later this year in September.
This early bout will take place over the course of three days and will feature some of the most renown players in the sport at the moment, including Canada's darling Scarlett, the man they call HuK, the dynamic duo of Polt and Violet, the United States' own PuCK, and the breezy dominator from Mexico, WinDY.
The six participants will battle it out in a very different kind of tournament from before, where each player will get to pick and choose who they face down against as opposed to being automatically pooled against an opponent.
Whoever manages to step away from this encounter as the victor will move on to the Grand Finale in September. You can see how the breakdown works with the various eSports tournaments that Red Bull have setup leading up to the big showdown at the end of this summer.
The big brawl in September will take place at the nation's capital in Washington D.C., opening up a monumental moment for politics and eSports to come together like the unholy couple that they are. Actually, that's really unlikely to happen unless the POTUS shows up and reveals himself to be an avid Zerg player with a mean mid-game rush.
Zoning in back to reality, we have the live matches taking place today, tomorrow and the day after that. Players will take on each other in a unique elimination style that sees each player battling it out in a best-of-three series.
The official Red Bull website offers an interesting explanation of how this game-changing "Rule of Three" works...
The sort of cool part about it is that the format and tournament rules will change and vary for each encounter leading up to the grand finale in Washington D.C. For instance, the Atlanta fallout happening on July 11th will be a 128-player open event, where-as the online event on July 20th will be a five-stage tournament to decide the winner, and the event on August 8th will be a global player showdown between the six best players from around the world. Interesting stuff.
You can learn more about the Red Bull Battle Grounds tournaments by visiting the official website.
Staff Writer at CinemaBlend.
Your Daily Blend of Entertainment News
Thank you for signing up to CinemaBlend. You will receive a verification email shortly.
There was a problem. Please refresh the page and try again.