This Week In Video Games: Star Wars PS4 And Windows 10 DRM Problems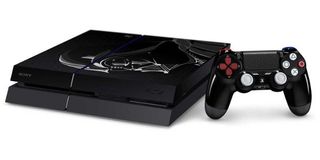 DC Comics MOBA Infinite Crisis quietly shut down last week. To me, this really drives home a difference between the gaming and movie industries. If you made a movie filled with DC Comics characters from different worlds, you would make hundredty bajillion dollars. It wouldn't even need to be a good movie. As long as Steampunk Batman and Nightmare Batman fought two Jokers, the movie would never stop making money.
I'm left wondering how well Infinite Crisis would have done if it were a (significantly reworked) mobile game. In mobile development, you can ride the coattails of a franchise to millions of dollars. Companies have made fortunes off games that star Kim Kardashian or were marketed with Kate Upton's boobs. As long as a mobile Infinite Crisis wasn't completely unplayable, it would have been a top-selling game.
Anyway, that's enough shower thoughts for now. Here's what you missed from the past week in gaming news:
Top Stories Of The Week
League Of Legends Servers Are Moving Next Week - Your teammates will be able to disappoint you 50% faster.
Left 4 Dead Characters Return For Different Game - "If I play Left 4 Dead 2 characters in a different game, am I breaking my boycott?"
Blizzard Secretly Added Duck Hunt To Heroes Of The Storm - Pssh, that's nothing. Ouya Inc. secretly added a gaming console to the market.
The Game Awards Will Return This Year - But they're going to rename the awards show to "That Thing That Happens Between Showing Off New Trailers."
Duke Nukem's Massive Legal Battle Is Finally Over - Gamers under 20 years old shrug their shoulders.
Fallout Shelter Now Being Advertised On Tinder - "I'm a Brotherhood of Steel Knight in the streets but a super mutant in the sheets."
Ubisoft Delays Rainbow Six Siege - Ubisoft needs extra time to polish up the game and find reasons to delay the PC version.
Star Wars PS4 With Sweet Darth Vader Paint Job Coming This Fall - But can it outsell the Jar Jar Binks-themed Ouya?
Windows 10 Won't Run Games With These DRM Systems - Oh, SecuROM, is there anything you can't fuck up?
Gears Of War's Classic Ad Has Been Remade For Ultimate Edition - Insert third Ouya joke here.
Video Of The Week
Chatroulette users find a way to turn the video service into a first-person shooter:
Quote Of The Week
"I just think... what's going on there... I just think both of them should kiss and make up. From my experience, and I've spent a lot of time working in Japan, I think that Konami and Kojima will figure it out. Those kinds of business relationships [in Japan] are typically for life, and Kojima is such an important part in what has gone on there. Clearly, they're at a rocky stage in their marriage." - EA chief operating officer Peter Moore, talking about the the rift between Konami and Hideo Kojima.
Staff Writer at CinemaBlend.
Your Daily Blend of Entertainment News
Thank you for signing up to CinemaBlend. You will receive a verification email shortly.
There was a problem. Please refresh the page and try again.