Xi3's Piston Is Not A Steam Machine, But It Is A PC Game Console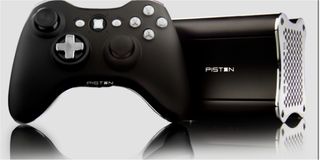 Xi3 has finally stepped forward, rolled out information on their new PC game console and put to rest the belief that the Piston was a Steam Machine (or at the time of its announcement, a Steam Box). However, despite distancing themselves from the Steam Machines, it may not have been the wisest decision they could have made.
As noted on Inc Gamers, Xi3 updated their FAQ for the Piston and added in additional details and information on the micro-console that costs a pretty penny to own. First up, they squashed all forms of relation to Valve's Steam Box or the Steam Machine, saying...
Oh, ouch. Well great way not to make friends right there.
Xi3 continues to bury anticipation for their own console by rolling out more details to lackluster fanfare, noting that the Piston will come with the dreaded Windows OS, something gamers are looking to get rid of once the SteamOS launches.
In addition to this, they have confirmed that the Piston will maintain its $1,000 price tag, which could net you an Xbox One and about eight games, but the specs are far from justifiable at that pricepoint, as pointed out by IncGamers, who wrote that the Piston contains...
Yep, only 128GB... you could only afford to put four games the size of Max Payne 3 on the Piston before it would be too full to do anything. Worse yet, you could only afford to put two Killzone Shadow Falls on the hard drive before it would require a replacement or an additional attachment. Ugh, pathetic.
Anyway, the only redeeming quality about this $1,000 tiny monstrosity would probably be the controller, which looks about identical to the Xbox 360's controller. The major problem is that the whole thing thing is just a farce. $1,000 for a little PC and a 360 controller knockoff is not going to find an audience anywhere.
As a novelty device it lacks novelty and as a PC it lacks the necessary design structures to scale with the times (i.e., what happens when you want to upgrade the GPU or swap in more RAM or a new motherboard?). Even more than that is the fact that the Piston isn't even really a competitive game console, as you're not getting anything new with this device you can't already get from hooking your current PC up to the TV.
For people who simply like to own things for the sake of owning things, I imagine the Piston will fulfill this role nicely. For anyone looking for a legitimate way to enter into the PC gaming arena without relying on a big budget or a complex series of upgrades outside the knowledge of their hardware proficiency, I would suggest waiting for the SteamOS and Steam Machines to launch and going that route.
Staff Writer at CinemaBlend.
Your Daily Blend of Entertainment News
Thank you for signing up to CinemaBlend. You will receive a verification email shortly.
There was a problem. Please refresh the page and try again.